Greetings from Fort Worth, TX! 🙂
Located in a trendy, bustling downtown neighborhood, this 500-square-foot (46 sq. m) shipping container home is a great place to stay if you're interested in checking out what downtown Fort Worth has to offer. In the midst of museums, restaurants, movie theaters and bars, this space is within walking distance of some cool things to do in the city.
The container itself is simple, minimal and somewhat industrial, but it provides plenty of comfortable space, clean lines and unique decor to keep guests happy. Check out the interior, which is rich with texture provided by the original elements of the containers that were left intact. The floor-to-ceiling glass door provides lots of sunlight.
The living room features a sectional couch, coffee table and wall-mounted, flat-screen television. The fully loaded chef's kitchen includes top-of-the-line appliances, such as a refrigerator, stove/oven, microwave, double sink and lots of cabinet and drawer space.
The bathroom features a vanity and sink, along with a toilet. A stand-up shower and lots of shelving space make the bathroom even more appealing.
The bedroom houses a fold-down Murphy bed, which when stowed away gives the appearance of even more space. Fold down the queen-sized bed when you're ready to sleep. Roller shades on all of the windows keep out the light.
Enjoy a patio view of downtown from the table and chairs adjacent to the container. There is definitely a lot to do and see in this busy, fun area!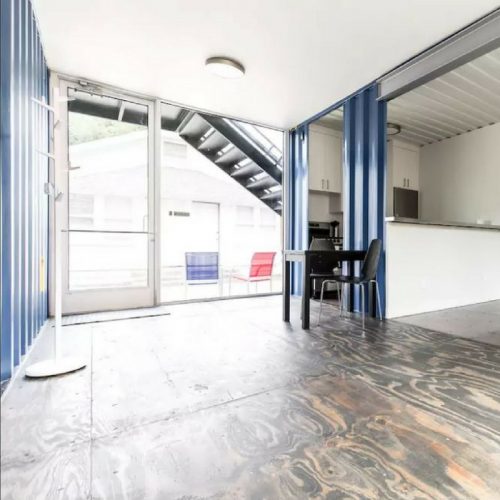 So what do you think? Would you stay here for $145/night? 🙂
Information Source: Smaller Living
Photo Source: AirBnb
» Follow Container Home Hub on Facebook for regular shipping container home updates here «