Greetings from France! 🙂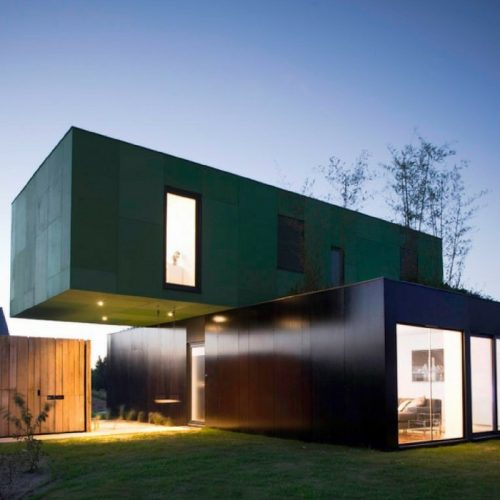 The Eco-Friendly CrossBox House is a perfect example of how creative ideas and design innovation can create surprises. Designed by Clément Gillet Architects, a well-known French Architecture firm, the house is all about small uses and serves the need of a small family. It is located in Pont Péan, France, and spreads over an area of 1,120 sq. ft. The design has been created by using old shipping containers by recycling them, which makes the house as livable as any other. The shipping container home is certainly worth enjoying and has a good amount of living space.
"This project is a prototype of a three-dimensional modular and industrialized house, built with four 40-foot shipping containers. The aim of this project is to build a low-cost architect's housing with a high focus on environmental issues. With an industrial approach, the construction time is reduced, as the prices are getting down. Each volume presents a very simple design: a living area on the ground floor, and three bedrooms on the first floor. The crossing of the two boxes provides a covered entrance and a carport."
From the exteriors, the house looks more like one box stacked upon another, with the lower one in black and the upper one in green. The vibrant colors give the house a much needed difference from the other houses around. In spite of using shipping containers, the house has good amount of ventilation from either side of the shipping containers and at the centers, as well. The interiors of the house are completely different from the exteriors and offer the people inside a warm and cozy ambience. The floors are timber clad, while the walls are in a simple plastered white finish.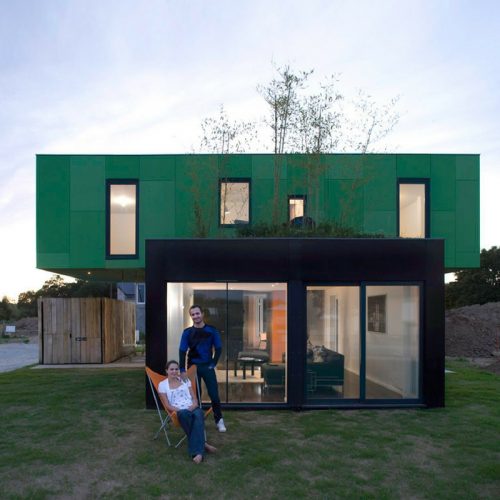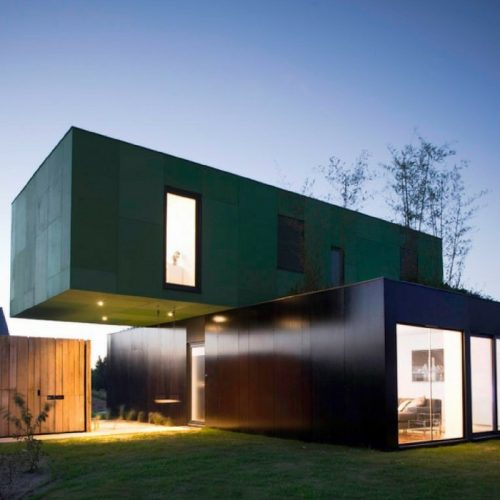 Understanding the limited space available, the house is extremely well done with restricted furniture that has been chosen in the modern lines. With a few paintings on the wall, the floor space is devoid of any unwanted objects. With simple LED lights on the walls in interiors and below the first box on the exteriors, the house is a perfect object by dark. Space, light and air, everything in a limited space makes this home a true architectural marvel!
What do you think? Would you live in a shipping container home like this?
Photo credit: HomeDSGN
Information credit: HomeDSGN & HomeDOO
» Follow Container Home Hub on Facebook for regular shipping container home updates here «