Greetings from Spain! 🙂
Located in the nature of a small development in the province of Tarragona, Spain this project was designed as a second leisure home that is easy to use and efficient and makes the most of its natural environment. This is a modular shipping container home with interesting aesthetics!
James and Mau Architectura, in collaboration with their auxiliary company Infiniski, wanted their Menta House to fulfill a sustainable,energy-efficient vision. The holiday getaway was completed in 2011 and has been making its mark in the container living world ever since.
The house is conceived as a "living box"; "Living box" that can be "opened", "closed", "turn on", "turn off", "warm up", "cool" efficiently and quickly, and taking full advantage of natural circumstances such as orientation, vegetation and wind. It opted for a cubic, rational, functional design, in which the transition between the interior and exterior spaces was as fluid as possible. The shutters in perforated steel cut, completely integrated in the façade, customize the design with mint leaves, transformed by the "Infiniski filter", and project luminous shapes in the interior of the day and outside at night, such as "light box" " With the windows open, perforations in the shutters allow a slight air circulation while protecting the interior from direct sunlight.
The cubic shape of the house is slightly distorted thanks to a setback in the northern part, creating corners that give, during the different times of the day, areas of natural shade on the outside. With the joint action of the bioclimatic architecture, the use of ecological materials, high quality insulation and the integration of renewable energy systems (Heating of biomass and solar panels for hot water) the building achieves high thermal comfort. Likewise, the project becomes part of the selective "category A of energy efficiency" with the official recognition of the Catalan Institute of Energy ICAEN.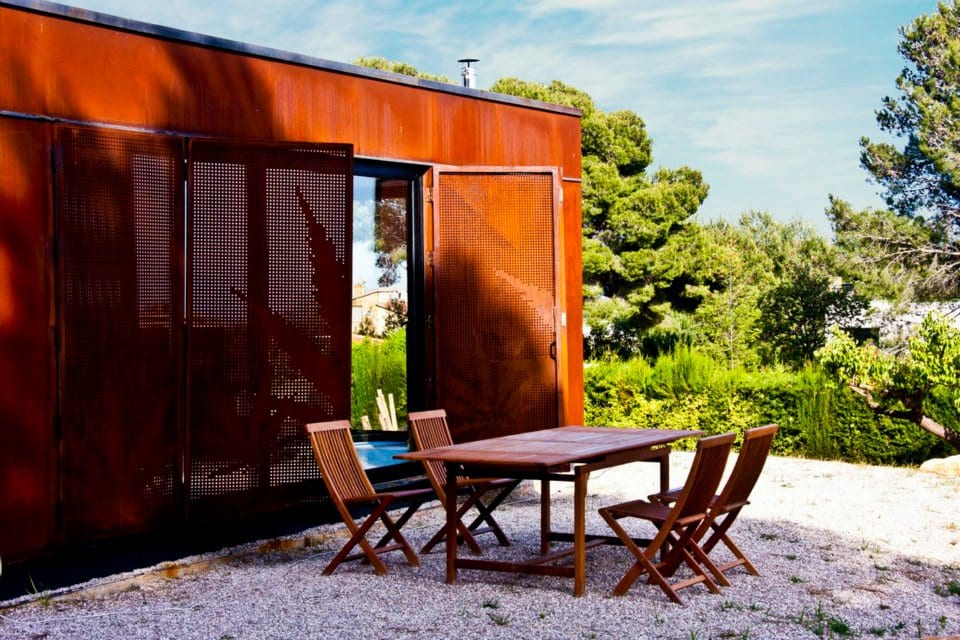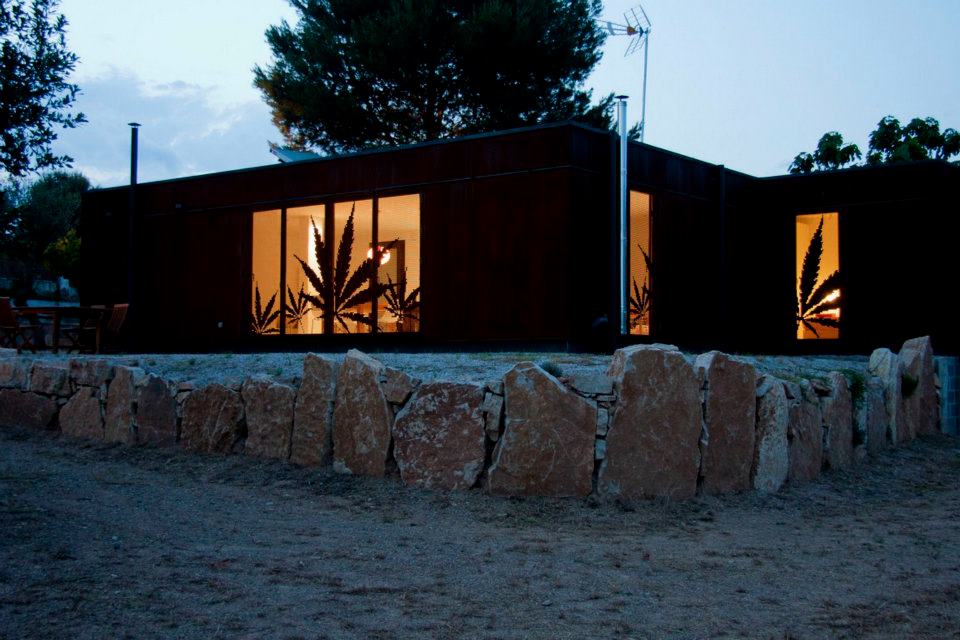 The aesthetics of the house is marked by the contrast between the ocher luminosity of its corten steel facade and the green of its natural surroundings. Perforated panels, shaped to look like mint leaves, are the standout feature of this humble abode's exteriors. White is the color of choice for the invigorating interiors. A compelling glass table, combining the best of the rustic and contemporary worlds, invites us to delve into the open-plan living area and kitchen. And at night, the leafy patterns actually create an interesting shadow effect. Along with a lantern-like lighting fixture, the dining area beckons us to admire its modish chairs. A rosy tint charms us as we meekly peek at the bathroom and bedroom.
Architects are always pushing new boundaries, and the Menta House is a nice spin to this convention. Adeptly furnished and visually sound,this is one container home that was created to leave a long-lasting impression.
So what do you think? Would you live here?
Information Source: SmallerLiving, James and Mau Architectura
Photo Source: Facebook, James and Mau Architectura
» Follow Container Home Hub on Facebook for regular shipping container home updates here «