Building your own home can be a fantastic challenge and an incredibly rewarding project. However, it can also be incredibly expensive and slightly inaccessible. That's why building a shipping container home in California is such a great option. With the alternative housing movement in full swing, there has never been a better time to build something unique.
In this guide, we have laid out everything you need to know about building a shipping container home in California. By understanding the process and everything that goes into building one of these homes, you can get a great final product. If you have been considering building a home like this, it's important to know what to expect. Following our guide can help you be ready.
Great Cities in California to Build a Shipping Container Home
What is a Shipping Container Home in California?
A shipping container home is a home built from a reclaimed metal shipping container. These containers are used to ship goods across the world on trains, boats, and trucks. When the containers are taken out of commission, they are either stored or reclaimed. One of the ways you can reclaim containers is to use them for building materials.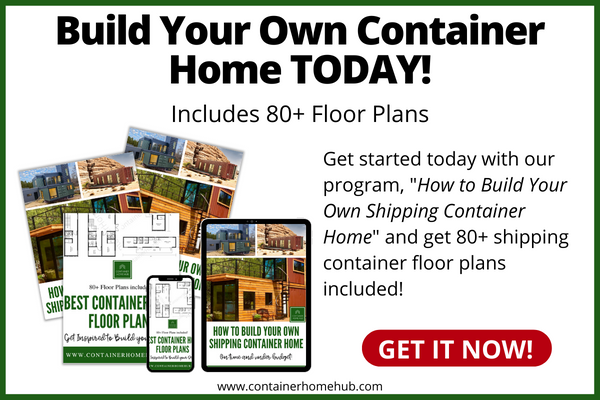 Shipping containers are plentiful and can usually be found fairly easily. This is one of the things that makes building a shipping container home in California so accessible. Not only is it cheaper than a traditional home, but it is also eco-friendly. By using reclaimed materials, you can reduce your carbon footprint and get a beautiful, unique home.
What Are the Benefits of a Shipping Container Home?
There are several advantages of building a shipping container home in California. One of the biggest benefits is the cost. Because of the low cost of materials and labor, you can get one of these homes built on the cheap. Not only that, but containers are also readily available in California.
The other benefit of building a shipping container home in California is how stylish they can be. Because of the containers' boxy, symmetrical shape, the homes have a very unique look. If you are a fan of the mid-century modern look, a container home could be a great choice. No matter what your design is like, you will end up with a home that is unlike anything else.
Cost of Building a Shipping Container Home in California
The cost of building a shipping container home in California is, on average, around $184,000. This may be more expensive than building a container home in other areas. However, it is much cheaper than building a traditional house. If you have been having trouble with the housing market in California, a container home could be a good choice.
The cost of building a traditional home in California is around $387,500. This is a much higher price than many other states, which can make the building very inaccessible. Because of this, a shipping container home in California could be a viable alternative. Taking the time to plan for a container home build can help you save a lot of money in the long run.
How to Choose a Builder for a Shipping Container Home in California
One of the most important decisions you will have to make is who you are going to hire as a builder. The construction business is incredibly varied and can be difficult to navigate. That's why it's important that you find a builder who specializes in container homes. There are many builders who can build homes, but specialization is incredibly important.
Shipping Container Home Builders in California
You should also look for a builder who has a good relationship with their customers. Look for reviews online and find builders who have been able to deliver a quality experience. Building a shipping container home in California is a very personal undertaking. You will need to have someone who has your best interest at heart by your side.
Steelblox – They have over 50 years of experience in construction, fabrication, architecture, design, business finance, marketing, and production. They build structures as simple as single-module backyard sheds to complex mid-rise apartment buildings and complex large commercial structures.
CRATE Modular, Inc. – They manufacture state-approved housing, commercial, and educational steel buildings. Years of experience constructing project types of different sizes and complexities make them an industry leader in steel modular construction.
Shipped.com helps buyers learn what shipping container is suitable for them and help them. With over 60 depots and thousands of containers on hand, they offer great prices for shipping containers. They have online direct checkout and a digital cart to help you find what you are looking for!
Conex Depot
Conex Depot provides friendly service to their customers to help them find the shipping containers they are looking for at the best price. Because of their long-established business relationships, they are able to find inventory throughout the entire world.
Aztec Container
Aztec Containers have been in business since 1969. Since then, they have expanded and grown their company to help you find the best shipping containers and offer modifications such as painting, vents, doors, etc, to help get you exactly what you are looking for.
Western Container Sales and Rental
Western Container Sales is a division of Railbox Consulting and is employee-owned and operated. They are one of the largest buyers of used shipping containers throughout the United States. They offer containers to their customers at wholesome markup pricing and make buying easy.
Designing a Floor Plan for a Shipping Container Home
You will also need to design a floor plan for your shipping container home in California. The floor plan will determine how many bedrooms and bathrooms you can have. It will also determine the arrangement of the actual containers. Your builder will take your floor plan and build your home to your specifications.
To get your floor plan built, write out a list of all the things you need in your home. Then, take this list to a professional draftsman who will turn it into a workable floor plan. You and your builder can use this plan to come up with a construction process and budget. A good floor plan will set you up for success and help you get the best possible final product.
Where to Find Insurance for Your Shipping Container Home in California
You will need to get insurance for your shipping container home in California. Insurance can help protect your investment as well as yourself and your family. Insurance for a container home can be difficult to find due to the unusual nature of the homes. To help with this, keep a list of expenses as you build your home.
After your shipping container home in California is built, you should get it professionally appraised. The appraiser can give you a solid value for the home, which will help you find the right insurance policy. Then, work with an insurance agent who has dealt with unusual houses before. They will help you find the right coverage for your home so you and your family can be protected.
Conclusion
By reading this guide, you should have a better understanding of how to build a shipping container home in California. Being ready for any eventuality during your build process is essential. Having a good idea about what you should have ready and what to expect can help. A container home is a challenging project but preparation is the best way to get good results.
If you would like more helpful information, be sure to check out the rest of ContainerHomeHub.com. There, you will find guides like this one as well as featured container homes. These can help get you inspired and get you thinking about your custom dream house.