Greetings from The Czech Republic! 🙂
Today we are fortunate enough to share with you an exclusive from Blokki showcasing their shipping container homes. Not only are their homes
contemporary and executed flawlessly, they are the creations from an impressive mother-daughter team. Founded by daughter and designer, Karolina Stryk, and her mother, Zdena Zlatová, they were able to realize and get the results of working together. Thanks to their abilities and enthusiasm, the Blokki homes are built from the abandoned shipping containers.
"Blokki container housing – a quick and easy way of living at an affordable price."
Recycling worn out shipping containers and turning them into objects suitable for both recreational and permanent living, the company H3 atelier Ltd operating under the brand Blokki offers an alternative to classic houses built from bricks or wood. With its variability, the construction may resemble LEGO. Individually reworked and insulated container modules can turn into houses of all sizes, with a single block taking up 30 square meters of land. The benefits are a quick construction, a clean design and an affordable price.
The Blokki constructions system is based on a very firm steel construction of discarded 12-meter-long shipping containers. Originally a storage place, the container then works as a load-bearing construction. First, the workers grind off any excess material, cut out the window and door openings, install the power lines and other necessary systems and then they insulate and face it both from the inside and outside. These finished houses are then loaded on trucks and transported to the customer's land, one by one.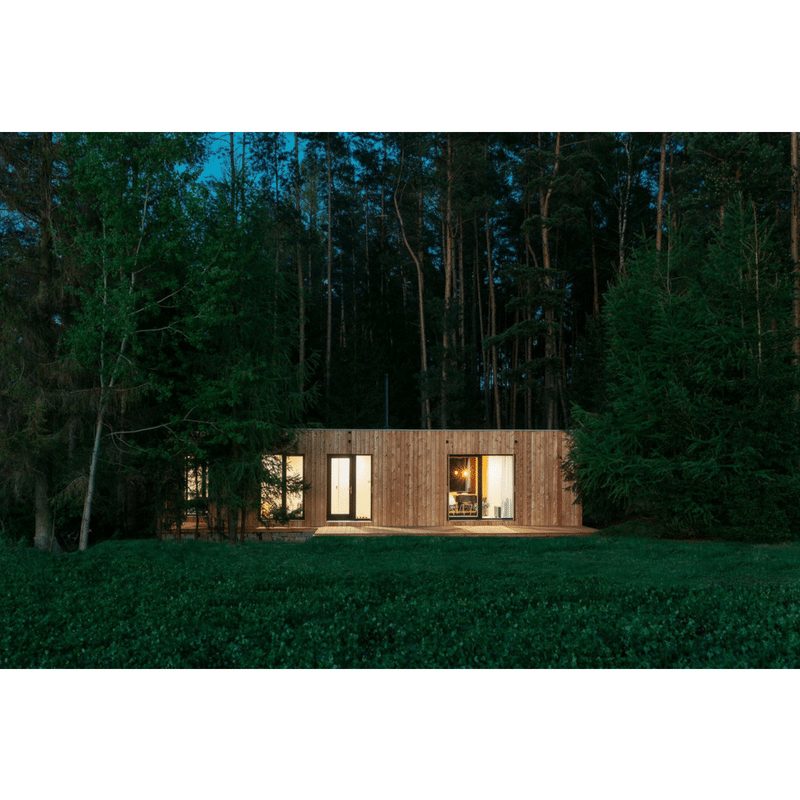 In order to get a better idea of Blokki's possibilities, customers can visit our sample construction of a 2Blokki wood cabin situated in nature, the heart of Vysočina region near Havlíčkův Brod. The cabin was based on two discarded shipping containers. Inside, the 54-square-meter living space offers just enough comfort for everyday life. There are two bedrooms, one bathroom with a shower, a living area with a kitchen corner and a furnace – a dishwasher and a washing machine are a matter of course. The interior is distinguished by using as few types of material as possible, which is the only way how to keep the size of such a small space optically pleasing. It draws inspiration from the Scandinavian style. The walls and ceilings are covered with joiner's plywood with a birch veneer finish. The large wooden windows are finished in a contrasting brown color. The entire floor space is covered with light natural marmoleum.
The exterior boasts Siberian larch and the vented facade made from vertically laid boards is left entirely raw. The larch has enough resin providing inherent protection and is therefore used on both outside terraces. The cabin's interior, conceived with minimalism in mind, is very easy on the eye. It is dominated by a black furnace and a large dining table made from a massive oak board. Whitened joiner's plywood is used on the kitchen units and corresponds with the wall covering, the bench in the dining room and the shelf located under the bathroom's sink as well as the interior doors. The cottage area where the sample Blokki is located has no water or sewer hook-up, and the object is therefore supplied by a drilled water well and a biocleaner is installed to take care of waste.
The quick construction (a unit of this size can be installed on site three months after placing the order) offers yet another bonus – the whole building process takes place at our company and the finished components are then joined together on the client's building site and hooked-up to all necessary systems.
Blokki's Home Choices:
1BLOKKI HOME is the ideal backdrop for weekend or holiday relaxation when you want to spend as much time outdoors in the open, but you want to sleep under your own roof. We have transformed a 40-foot container into a simple house that does not play anything – it's the perfect solution for anyone looking for a universal dwelling with low operating costs and no maintenance requirements but still providing enough comfort. On a flat roof, you can place photovoltaic panels and use solar energy while running the house, a drilling well with a bio-cleaner will provide you with drinking water and sewage drainage even without water and sewerage.
The drawing shows the standard design.
The price of 1BLOKKI HOME starts at 496.000, – CZK without VAT.
2BLOKKI HOME connects two containers and results in a pleasant cottage, created for days of rest. But it can also fulfill the role of start-up and affordable housing for a young family or a practical ground-floor house for active seniors. There is nothing in it that you are used to and need for life – we have tuned the interior into the last detail so that it is variable, space-saving and especially high-quality. The house is additionally ready for environmentally friendly and energy efficient operation – just re-order photovoltaic panels with a battery module to conserve surplus solar electricity and ensure solar water heating. A drilling well with a bio-cleaner will provide you with drinking water and drainage water without connecting to the water supply and drainage system.
The drawing shows the standard design.
Price 2BLOKKI HOME starts at 958.000, – CZK without VAT.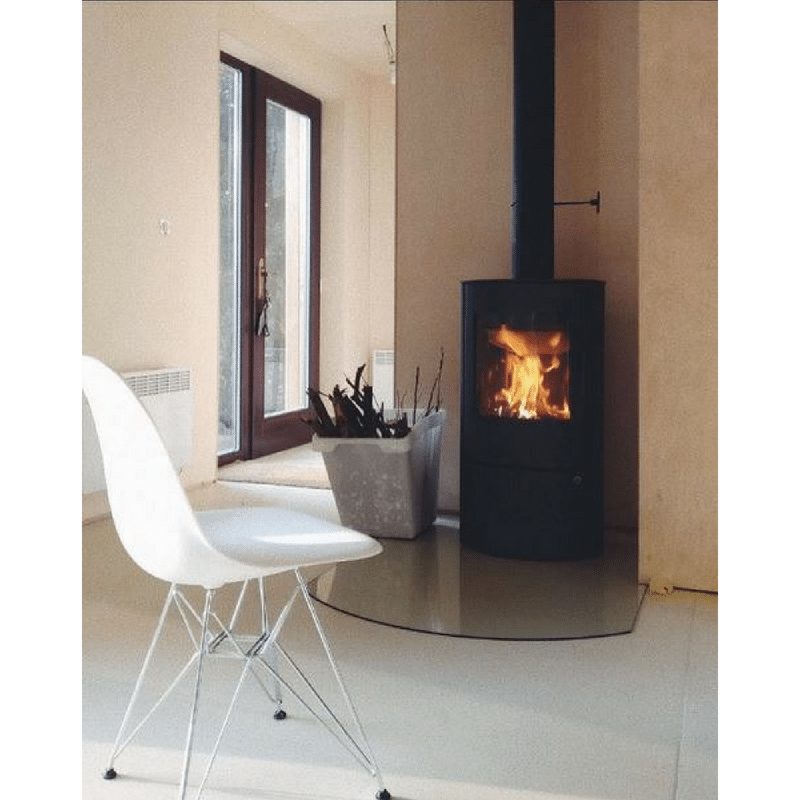 2.5 We build BLOKKI HOME on the basis of two forty-eight-foot full-ship and one shortened to six meters. This creates a building with a pleasant living space of 67 square meters. The advantage of option A is to extend the two bedrooms towards the middle container, making their width 3.5 meters. The variant marked B is the solution in which the bedroom is left in the classical width, typical for container buildings, 2.2m. The advantage here is that the building provides three bedrooms and disposes of 4kk. The building can be complemented by a pleasant outdoor terrace and can well serve families as well as for permanent living. The living space is dominated by a large enough window with access to the terrace. The bathroom is equipped with a shower, but there is enough space to fit the bathtub as well.
Price 2.5 BLOKKI HOME starts at 1.198.000, – CZK without VAT.
3BLOKKI HOME is our largest type of house that can serve as a fresh living as well as a very spacious weekend cottage. It consists of three 40-foot containers arranged in a rectangle measuring 12.2 mx 10 m with a pleasant central terrace. The middle container has been split and reinforced – thanks to this, a large and comfortable living space has been created in which there is enough space for everyday life as well as a multi-family family. There are two bathrooms in order to make sure that no one takes you in the morning, the indoor entrance and the technical room, which can also be used as a cloakroom. The terrace can be complemented by awning and can be used even in bad weather. The large flat roof is perfect for installing solar panels and using solar energy. The drawing shows the design design.
Price 3BLOKKI HOME starts at 1.402.000, – CZK without VAT.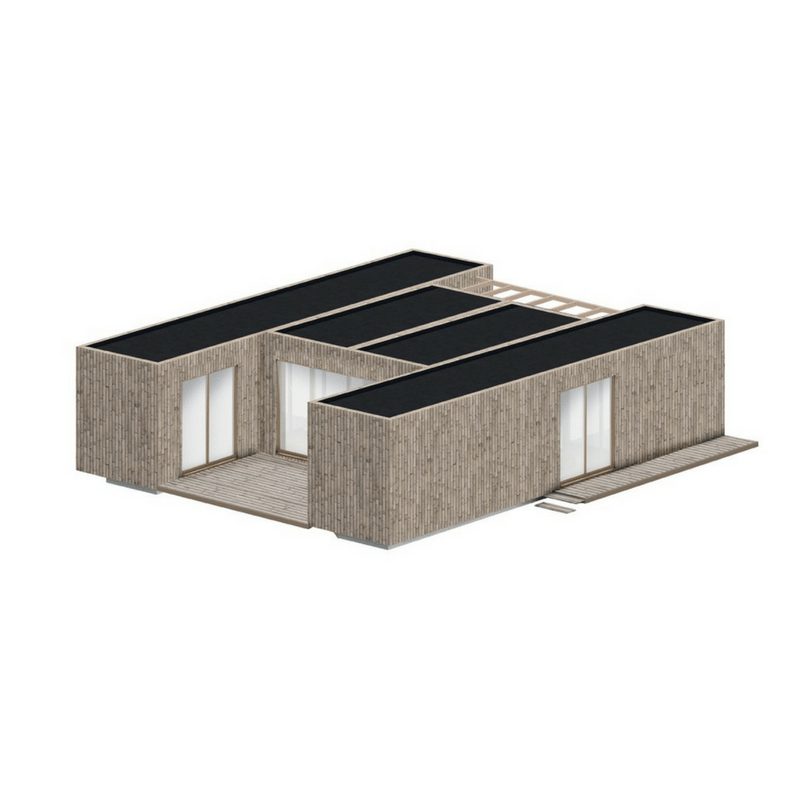 So what do you think? Which one would you live it? 🙂
Information Source: Blokki, Zena A Zivot
Photo Source: Blokki, Zena A Zivot
» Follow Container Home Hub on Facebook for regular shipping container home updates here «