Greetings from Atlanta! 🙂
Experience tiny living the next time you visit Atlanta in this green, eco-friendly urban retreat. Tucked in a meadow of native flowers & tall grasses, The ATL Tiny Eco Containers are two separate 20-foot shipping container homes available for nightly rental through Airbnb. They share a patio & fire pit, and where featured by Tastemade & Airbnb.
Both tiny homes are part of an urban retreat and utilize reclaimed materials. Vibrant colors are used throughout the home. Inside each home is a queen size Tuft and Needle bed and a nightstand built from repurposed wood from Brazilian pallets and a breakfast bar that makes a great work space. Unit One has two chairs, one is made by Etsy artists from Nevada, and Unit Two has a loveseat. In Unit One the bathroom is a corrugated metal shower with a concrete floor, and Unit Two has a title shower with a frameless glass door.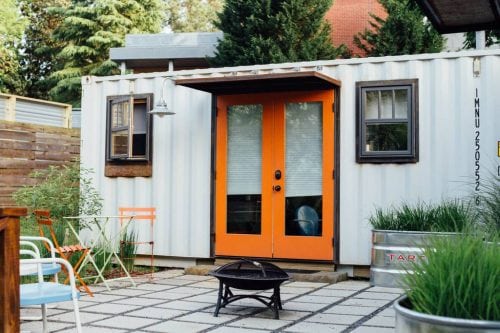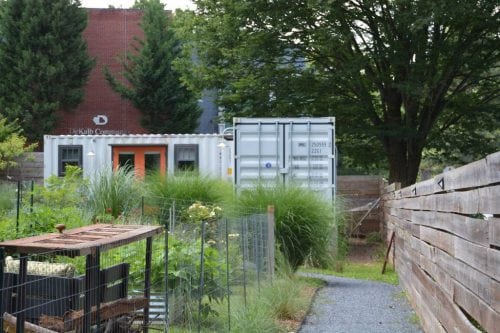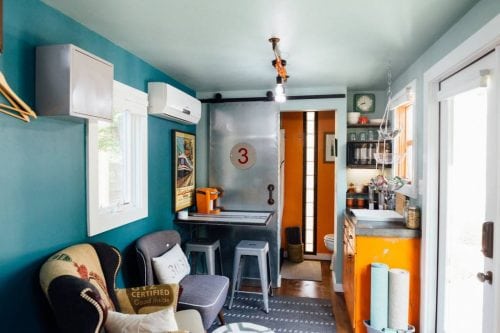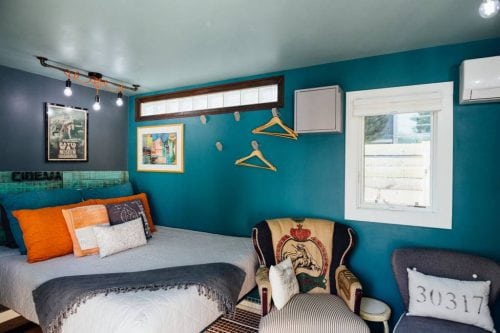 This is an intentionally green space. What you'll notice when you walk into your unit is a complete absence of artificially-scented and colored candles, plug-ins, fabric softeners, dryer sheets, cleaning and beauty products. The only fragrance you'd ever encounter would be essential oils (and all of our products are vegetable based), though 99% oh the time, the indoor air is completely neutral. Much of the interior constructed from upcycled / recycled materials. The bedding and bath towels are organic and mostly fair trade and the drinking glasses are recycled. The art is original.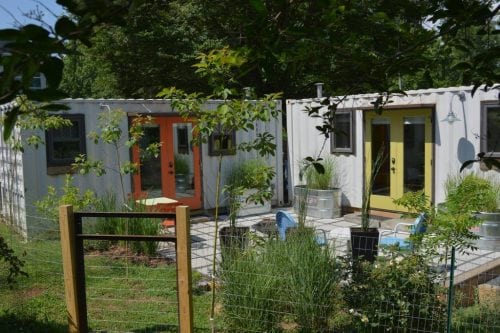 They also supply:
mini fridge
filtered water, organic, fair trade coffee / organic tea (fair trade, when possible).
European split heating / cooling (cools indoor air to 61 degrees, heats beautifully into sub freezing temps).
air freshener (poo-pourri product)
2 yoga mats & carriers
yoga mat cleaner
Aveda body wash / shampoo / conditioner / hairspray
Eco Spritz essential oil-based sprays for you to sample and enjoy while here
All Terrain bug repellant
vegetable- based hand and dish soap
iron
toaster oven
hot plate
cooking oil
kettle
French Press and Keurig w/ reusable stainless cup— your choice
small sauce pan / sauté pan
blow dryer
lint brush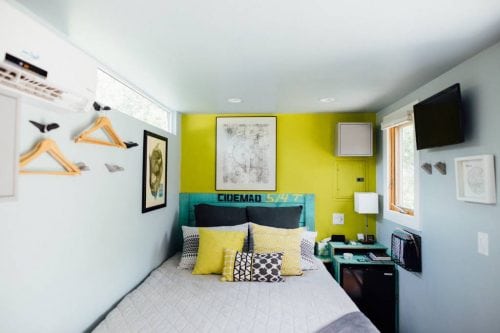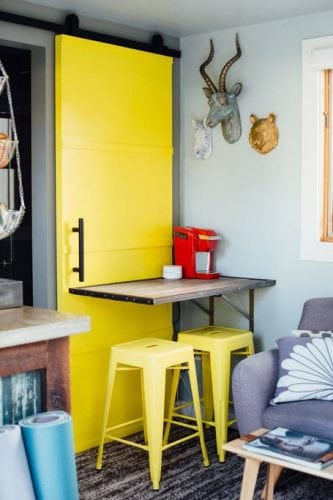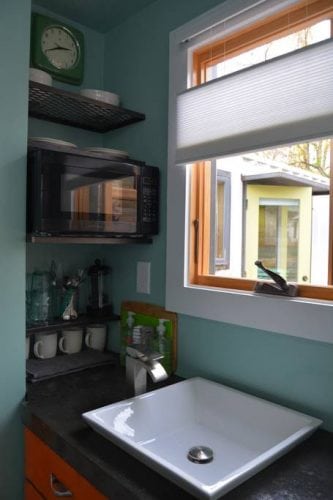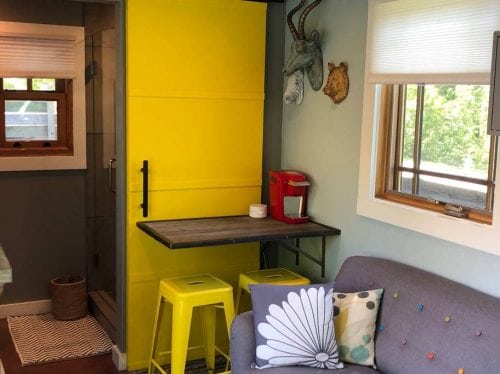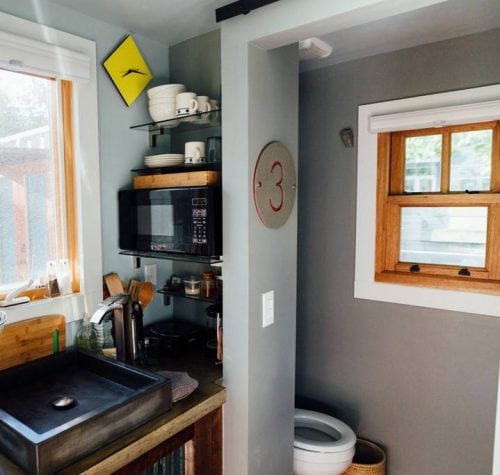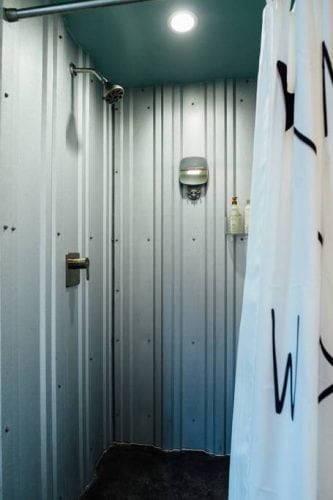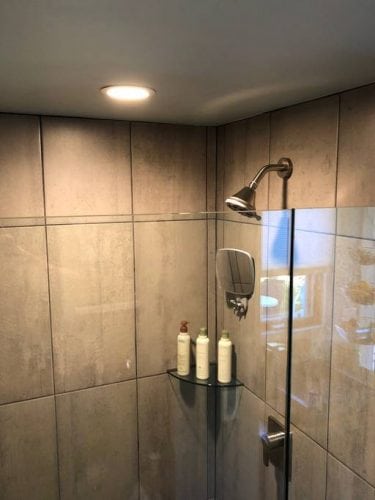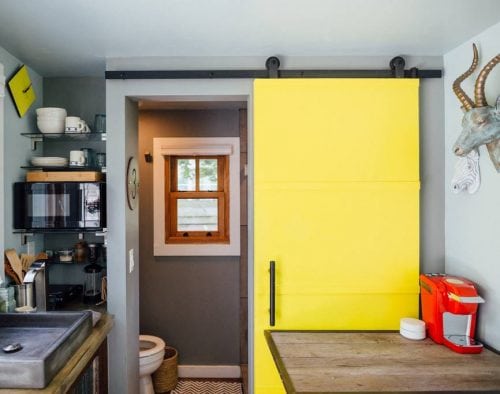 Nightly rates start at $69 USD. For availability and more information about the ATL Eco Container Unit One and Two, you can visit their Airbnb listing.
*updated on 2018-08-04 after speaking with Adele, the owner 🙂 *
Also, (FYI, in case you are interested) upgrades are being made to both Units this Summer and Fall, beginning next week, when we are adding small corner reclaimed shelves for the wall side of the head of the bed, for bedside items, a couple odd shelves for folded clothing and a hanging, open box to serve as a coffee station. Additionally, plans are in the works to incorporate a Stock Tank Pool ( 8' above ground pool) to share with guests and lastly, to add a shed roofed screened sitting area off of the end of Unit 1, increasing living space 3 seasons of the year.
So what do you think? Which one would you stay in? 🙂
Information Source: Airbnb, Adele, the owner
Photo Source: Airbnb
» Follow Container Home Hub on Facebook for regular shipping container home updates here «