When it comes to affordable housing options, there isn't a better solution than shipping container homes. Since the early 2000s, shipping container homes have been popping up all over the world as an option that combines sustainability, creativity, and new house construction hacks.
But what exactly does it cost to build a shipping container home? Do shipping container homes require a lot of maintenance once they're built? Should you buy a new or used shipping container for your shipping container home design? The answers might surprise you.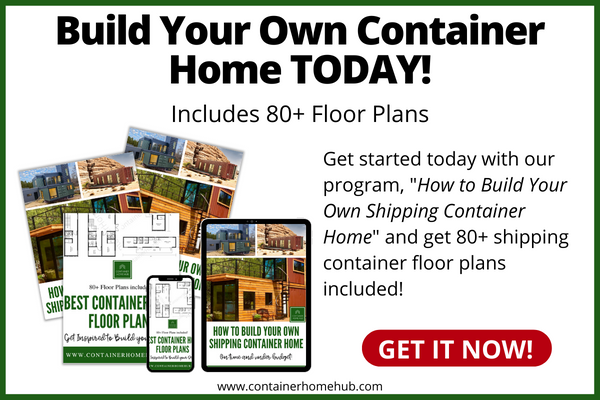 From tiny home alternatives to ski and yoga resorts, there are a surprisingly large variety of ways to combine repurposed shipping containers to give you a functional floor plan. This is the best option for a customizable home that can grow and shift with your family and lifestyle over an extended timeline!
In short, your shipping container home building budget depends on what you want your final product to look like. Read on to learn about what to consider when determining the cost to build a shipping container home – and how you can start on your shipping container home project today.
What is a shipping container home?
While there are a variety of metal building trends and tiny home options available for construction today, there isn't a comparable alternative to a shipping container home.
Shipping container homes use prebuilt international shipping containers as recycled metal frames for new homes. This makes them weatherproof in response to extreme storms, and the steel metal of shipping containers keeps homes free from rot and mold over time.
It might seem like a shipping container home would be limited to the unique dimensions of a shipping container. Shipping containers are usually built with an 8-foot width and height, with either a 10, 20, or 40-foot length.
But the reality is that you can make single-story and multi-story houses by layering shipping containers next to and on top of each other to make more traditional room sizes in your home.
Are shipping container homes cheaper than traditional houses?
The short answer to this question is yes. A home made with a single shipping container can cost as little as $10,000, but that cost estimate doesn't include all of the monetary steps involved in creating a new shipping container home. For any new house construction, you'll still need to purchase the land where you plan to build, and many shipping containers require a bigger budget to help convert them from their original use of moving international materials overseas.
Even with these extra steps, a shipping container home usually costs one-third of the price of a regular home. And the average cost of a newly built brick-and-mortar house is around $300,000. And the best thing about a shipping container home is that it doesn't have to stay small forever. With each new shipping container you save up to purchase, you can add to your home – which means you and your family will have a house that can actually grow with you throughout the years. This could even include a shipping container pool in the future if your property allows it.
Shipping Container Home Costs – Things to Consider
The cost to build a shipping container home is determined most by three elements of your shipping container home project: lifestyle, property landscape, and traffic flow. If you are willing to consider these before building your shipping container home, you will be able to create a more realistic budget for the entirety of your shipping container home construction.
The lifestyle requires you to consider how often you plan to spend time at your shipping container home. Are you building a shipping container home as secondary vacation housing, or is this the primary residence for you and your family? Do you plan to work from home when you move into your shipping container home? What sort of access to community do you want it from the location of your shipping container home?
This last question will also help you figure out where you want to build your shipping container home, either close to an established city or in a remote location that gives you privacy and more autonomy in the home you want to build.
The landscape of the property you purchase for building your shipping container home will determine what type of foundation you need to invest in for your shipping container Construction. It will also help you decide if you want to keep your shipping container home mobile (build it on wheels or a mobile platform) or if you plan to attach it to a permanent foundation that gives your home more longevity.
Traffic flow is something to consider as you decide how your family may grow over time and also how you plan to use your shipping container home with these potential shifts. This should also help inform what type of flooring and how many bedrooms you want in your shipping container home.
Cost-Effective Shipping Container Home Tips
So what exactly are the budget items you should plan for when considering the cost of building a shipping container home? And how can you help guarantee your shipping container home remains more affordable than other new home construction projects?
The first item you'll have to purchase for your shipping container home is the land. If you are willing to commit to a small rural lot, you should be looking at around $3,000 for one acre. Keep in mind urban land for new builds is pricier, and you'll usually get a much smaller plot for a lot more money.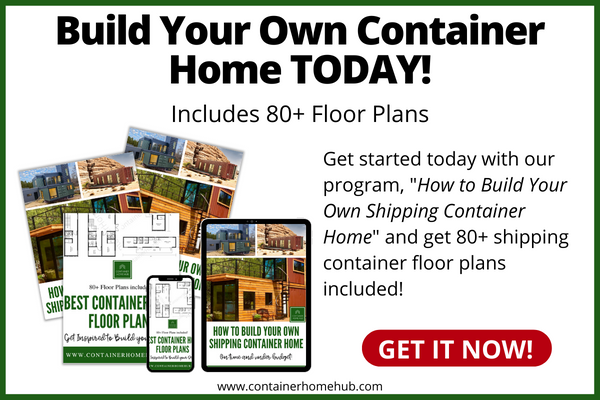 Another way to save money in the long run on this first purchase for your shipping container home is to look at properties that are already connected to electric and sewage lines in the area. This usually is more like to guarantee you end up in an area with established transportation options, which also gives you more options for obtaining financing for your entire home project.
The next two purchases with your shipping container home are the foundation and the shipping container itself. If you're looking to keep the cost to build a shipping container home low upfront, you can always start with a temporary foundation and then upgrade later. The whole point of a foundation is to help your home better withstand shifting outdoor elements over time and to keep your home stable. Shipping containers are already naturally sturdy, which is why you can always defer to simpler foundations to start.
Your first shipping container can cost as little as $1,000 and as much as $10,000. The money you spend here really depends on two details. First, there's how move-in ready you want your shipping container to be as soon as you purchase it. And second, you need to consider how committed you are to repurposing a used shipping container or if you're willing to include a brand new shipping container in the making of your shipping container home.
If you want a shipping container that already has installed insulation and includes space to install amenities, you will want to work with a shipping container home builder in your area. They will help you access a repurposed shipping container and then deliver a move-in ready shipping container to the lot where you plan to place your shipping container. This option can cost as little as $30,000 and save you a lot of time and frustration in your new home project.
If you want to put in the work on your shipping container on your own, keep in mind a lot of the work involved requires you to convert the purpose of the shipping container from transportation to living space. This means adding lines and hoses for HVAC, electricity, and plumbing inside your home. You will also need to pay for roofing, interior walls, flooring, and windows.
One of the best ways to save on doors and windows is to use whatever hinges are already included in a shipping container. This makes your home more secure, which is a great option if you plan to use your shipping container home as a vacation getaway. And it also makes your home less prone to rust and dents as the metal of your shipping container home ages over time.
Conclusion
Now that you've read through our shipping container home cost guide, the only thing left to do is to start building your shipping container home! Be sure to also check out our shipping container home FAQs, including our tips on the differences between a shipping container home vs regular home. Or read more about shipping container homes on our blog, where you'll see content like these featured shipping container homes under $100,000 and floor plan inspiration for 6-bedroom shipping container homes.