The Truck Stop in San Pedro, Belize, is a unique dining experience on the island of Ambergris Caye. It is a premier shipping container outdoor food park and offers an array of local cuisine.
The atmosphere is vibrant and inviting, and it's a great spot for food lovers who want to explore something different.
The Truck Stop is full of delicious dishes, ice cream, and desserts from local businesses, all housed within colorful shipping containers.
Plus, it supports local artisans and entrepreneurs who have transformed them into thriving businesses. Diners can indulge in street food, relax with friends, or simply enjoy the one-of-a-kind atmosphere.
The Truck Stop offers a gastronomic adventure complemented by the unique aesthetic of a food spot made from shipping containers.
Key Takeaways
Shipping containers offer versatility, durability, and cost-effectiveness, making them an ideal choice for businesses.
The Truck Stop demonstrates how shipping containers can be creatively transformed into vibrant, innovative spaces for various ventures.
The Truck Stop's unique use of shipping containers adds to the charm of this special place. Visitors can sample a variety of local cuisines and drinks, from street food to gourmet meals.
The food park prioritizes supporting local businesses and artisans, contributing to the growth and vibrancy of the community.
The Truck Stop in San Pedro
The Truck Stop in San Pedro, Belize, is the ultimate foodie paradise. Located on Ambergris Caye, this innovative food park comprises shipping containers, each serving a unique cuisine.
Each shipping container offers a unique culinary experience, with diverse cuisines from around the world, all conveniently arranged around a central seating area.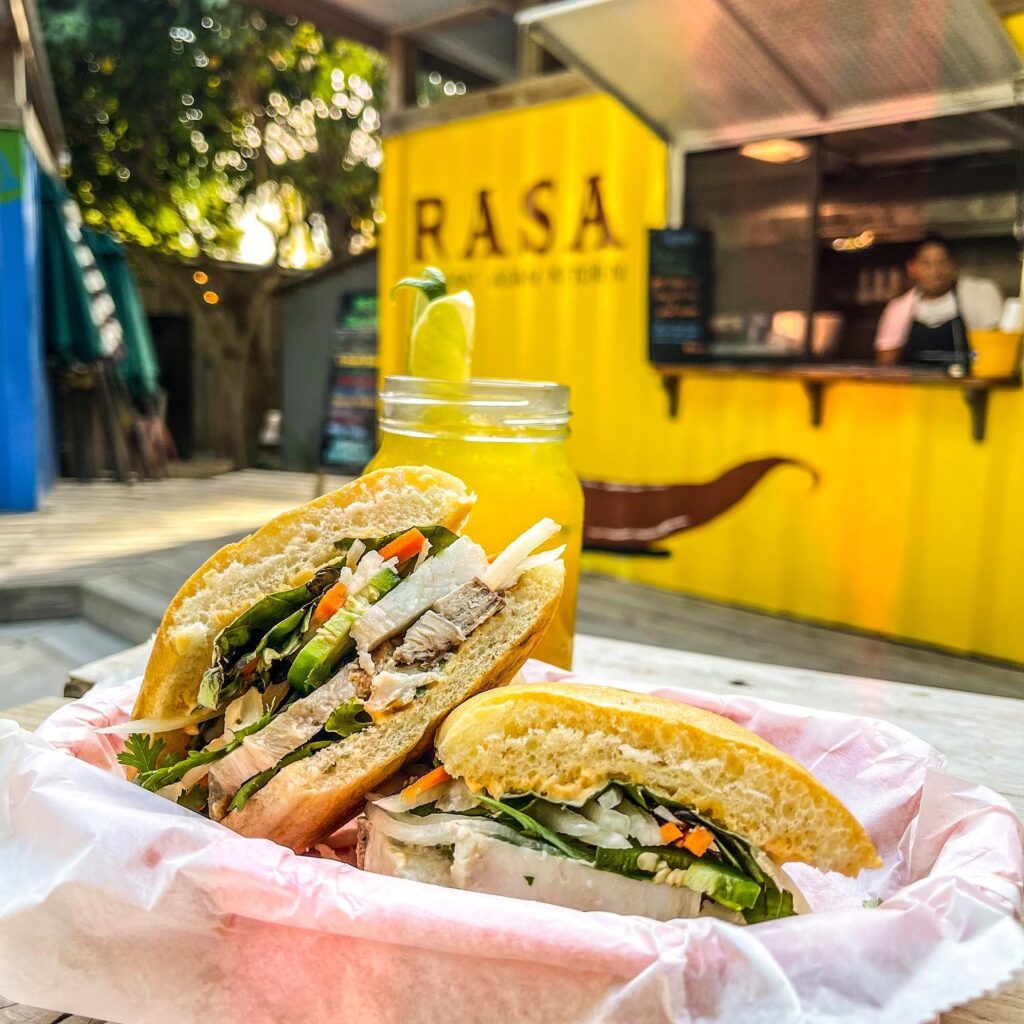 Photo from The Truck Stop Facebook Page
RASA serves Malaysian and Southeast Asian fusion dishes, while Sol Fresca offers Latin American delicacies. For those with a sweet tooth, Cool Cone is the place to go for delicious frozen treats. Pizza lovers will be tempted by Slice of Haven's New-Haven-style pies.
Photos from The Truck Stop Facebook Page
The Truck Stop provides an unforgettable dining experience in the vibrant atmosphere of San Pedro. Enjoy your meal in the central seating area surrounded by creatively designed containers. Come explore the culinary hotspot today and embark on a gastronomic adventure like no other.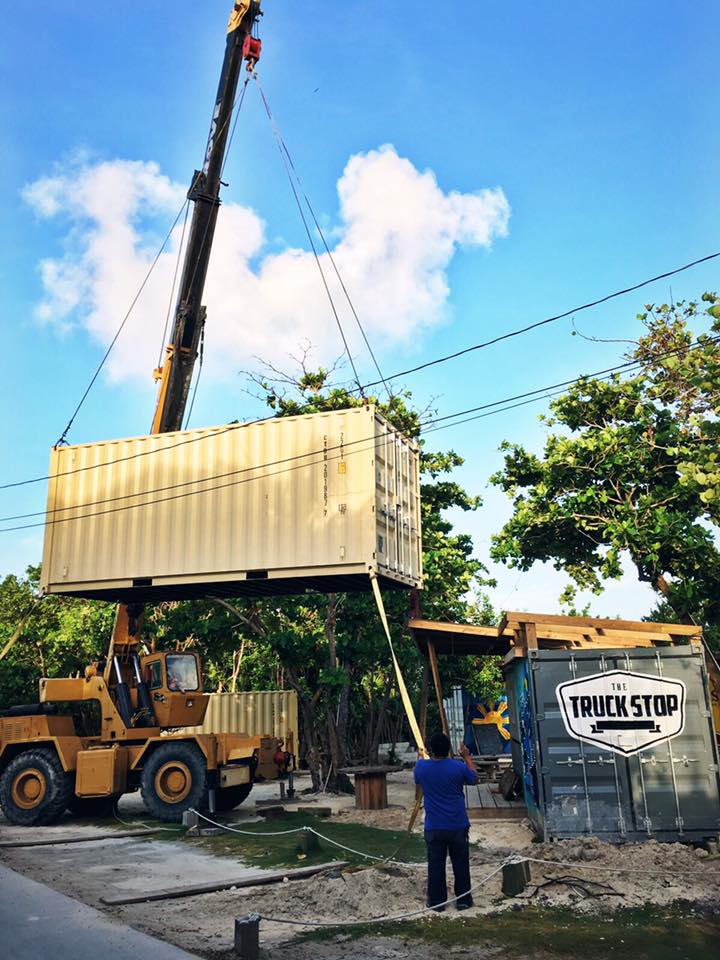 Background
Kimberly and Daniel are a dynamic husband-wife team with an impressive 47 years of combined hospitality experience.
Their journey began in Austin, TX, where fate brought them together through a mutual friend in 2012. Kimberly was in the process of opening AMPED, a boutique-style nightclub, while Daniel managed a group of restaurants just across the street.
Their paths intertwined, leading to a fruitful partnership in various bar and restaurant concepts.
Their success only grew from there. They ventured into launching a hospitality consulting company and eventually found themselves in Denver, CO, assisting in the expansion of a food hall group that aimed to support first-time hospitality business owners. But their ambitions didn't stop there.
In 2020, amidst the challenging times of the pandemic, Kimberly and Daniel set their sights on a new adventure.
They decided to take over the Truck Stop, an exciting project located in Ambergris Caye, Belize. This marked their first international endeavor as business partners. Despite the uncertainties of the global crisis, they persevered and finally assumed ownership of the Truck Stop in 2021.
Now, the Truck Stop stands tall as Belize's premier entertainment destination. This vibrant hub boasts an array of offerings, including three full-service restaurants, an inviting ice cream shop, and three bustling bars.
The Ambience and Atmosphere Of A Shipping Container Food Spot
At our unique shipping container food park in San Pedro, Ambergris Caye, Belize, you will be transported to a vibrant and cozy atmosphere. The creative use of repurposed shipping containers offers a variety of delicious food options.
The seating area is designed to create a communal feel where locals and tourists can come together to enjoy their meals.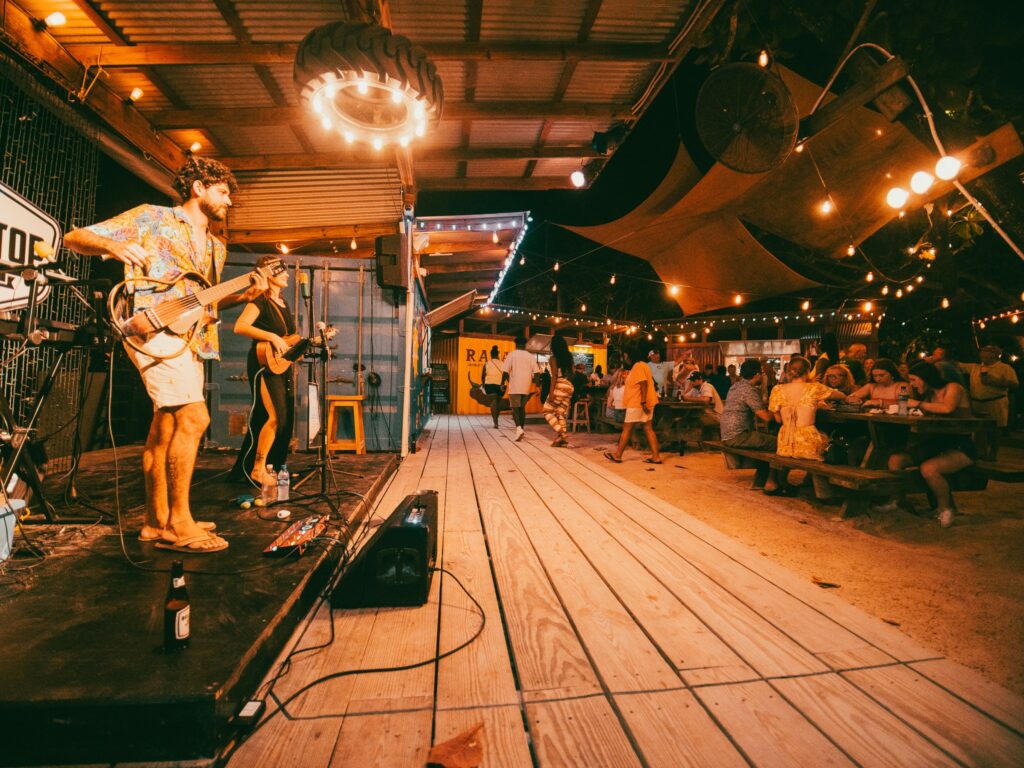 Photo from The Truck Stop Facebook Page
The atmosphere is filled with enchanting aromas of food and the lively chatter of happy diners. Our food park offers an inviting and relaxed setting with colorful decorations, comfortable seating arrangements, and live music playing in the background.
Whether you're grabbing a quick bite or settling in for a leisurely meal with friends and family, our ambiance will make your dining experience memorable.
Shipping Containers For Business
Shipping containers are incredibly versatile. They can easily be moved to different locations or rearranged to suit changing needs. Moreover, they are durable and provide a unique atmosphere for locals and tourists.
The Truck Stop shipping container food park in Belize is a perfect example of how shipping containers can be used for business. They have transformed shipping containers into an inviting, customizable space for businesses to thrive.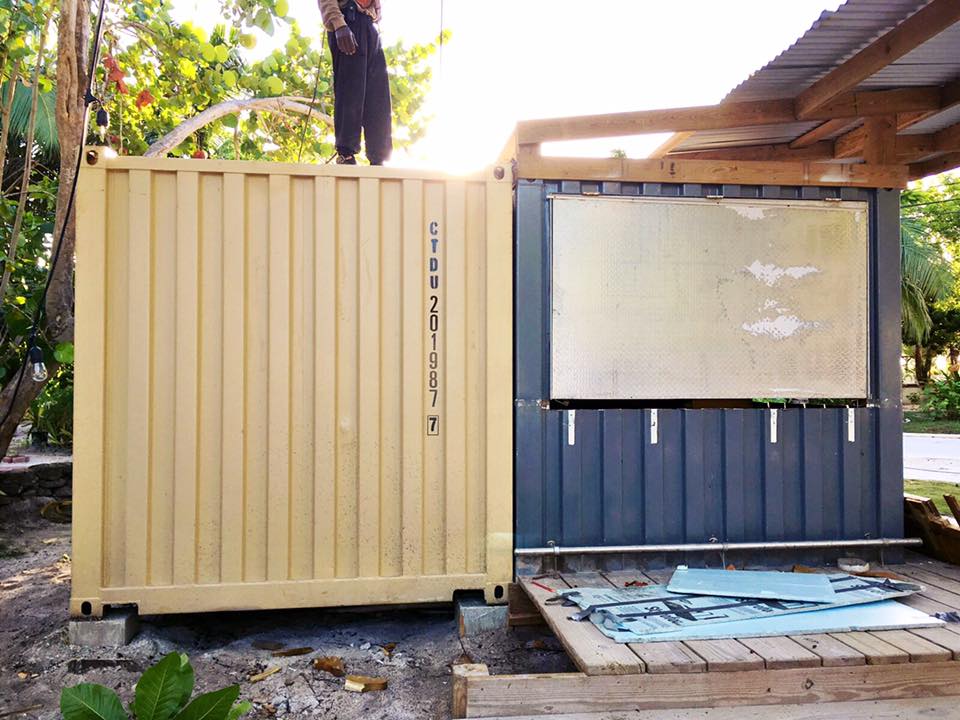 Photo from The Truck Stop Facebook Page
Benefits Of Using Shipping Containers For Business
If you're looking to create a unique and innovative space for your business, shipping containers offer so many advantages.
Firstly, these containers are incredibly durable and weather-resistant, meaning that your business is well protected from harsh elements.
Plus, they're much more cost effective than traditional brick-and-mortar buildings, which can save you a lot of money on construction.
Shipping containers are also incredibly versatile and can be easily customized and modified to your exact needs.
This allows for a lot of creativity and freedom in design. On top of that, these containers are easily portable, which makes it easy to relocate or expand your business in different locations if necessary.
Businesses no longer need to worry about expensive warehouses or renting space in crowded facilities. Shipping containers can also be conveniently placed on-site, providing a secure and reliable storage solution.
Need extra room for inventory or equipment? Just add another container. These versatile metal boxes come in various sizes, ranging from 10 to 40 feet, making them adaptable to businesses of all scales.
Take advantage of the many benefits that come with using shipping containers for your business.
Supporting Local Businesses and Artisans
Supporting local businesses and artisans is crucial for the vitality of a community. When you choose to shop locally, the majority of your spending remains within the community, stimulating the local economy and creating job opportunities.
It fosters a sense of community pride and preserves the unique character and identity of the area, contributing to a vibrant and distinct atmosphere.
Additionally, supporting local businesses encourages innovation and entrepreneurship, as these individuals often bring fresh and unique perspectives to their craft, pushing boundaries and contributing to the overall cultural and artistic scene.
It also promotes sustainability, as local businesses tend to prioritize locally sourced materials, reducing the carbon footprint associated with transportation.
Supporting local businesses and artisans can create a sense of connection and personalization, as you have the opportunity to engage directly with the owners and build relationships within the community.
Supporting local businesses and artisans is a win-win situation. It strengthens the local economy, preserves the unique character of the community, encourages innovation, promotes sustainability, and fosters personal connections.
Conclusion
If you're traveling to Ambergris Caye in Belize, don't miss out on The Truck Stop – San Pedro's premier shipping container food park. This unique establishment provides an unforgettable experience that supports local businesses and artisans.
The use of shipping containers adds to the charm of this special place, showcasing the creativity and versatility of these structures.
Diners can indulge in a variety of local cuisines and drinks, support local businesses and artisans, and enjoy the lively atmosphere of this culinary hotspot.
Additionally, shipping containers provide numerous benefits for businesses, including durability, cost-effectiveness, and adaptability.
Overall, The Truck Stop is a must-visit destination for food lovers seeking a one-of-a-kind dining experience in Belize.