Greetings from Washington! 🙂
This model was originally built for the Spokane AG Expo in 2015 to demonstrate the ability of the Rugged Cabin to accommodate ATVs, snowmobiles, and other equipment, eat and sleep, fish and rest. This model could be your shipping container home and it is a low-cost option that fits a variety of needs. BERG Premier Camp Solutions painted it "Rugged Cabin Orange" to stand out, but it can be painted any color.
BERG Premier Camp Solutions has been providing quality shelters since 1883 for both military and commercial customers worldwide. They have created a solution with the same quality, American craftsmanship for the civilian market at an affordable price. The Rugged Cabin is for the outdoorsman who wants a weatherproof, secure and fully customized cabin.
Hunters, fishermen, preppers or those looking for an outdoor escape can find packages and custom options to fit each need, both on or off-grid. Each Rugged Cabin is built from the highest quality materials in our 125,000 square foot manufacturing facility in Spokane, WA.
As shown at the Adventurer Rugged Cabin at the 2015 Spokane AG Show.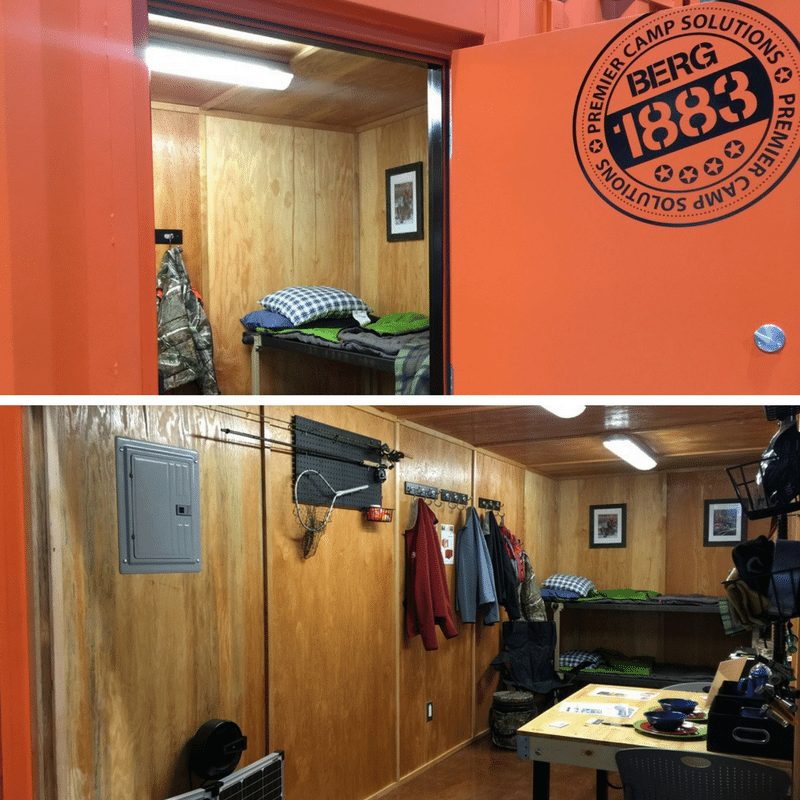 Structural Options:
New 20' CSC Certified Container
R-13 Insulation
2×4 Framing with Vapor Barrier
Exterior Security Door
Finishing Options:
Sealed Hardwood Floors
Sealed Plywood Finish
"Rugged Cabin Orange" Paint
Integration Options:
100 Amp Power: 6 Receptacles, 2 Fluorescent Lights
80 Watt Solar/Battery/Inverter
Bunk Bed
Folding Table
Hooks and Pegboard
Also, I tried looking for the price on their site and on their Facebook page but I got the impression that you get a bulk discount if you order more than 1 so if you want just one you need to contact them.
So what do you think? Would you have this as your hunting cabin? ☺
Information Source: The Rugged Cabin
Photo Source: The Rugged Cabin
» Follow Container Home Hub on Facebook for regular shipping container home updates here «