Greetings from Texas! 🙂
If you've been reading the blog since the beginning you know I tend to favor Texas homes. So when Daniel Hayhurst contacted me on Instagram, I immediately agreed to feature his family's home. And the pictures he shared with Container Home Hub? Wow, what an impressive shipping container home!
The home was built from two 40' shipping containers with a total of 840 square feet and 1080 square feet including the screened-in porch. They cut down and milled the mesquite tree for the countertops and window trimming. The floors are red oak and the interior doors are made with the container material we cut out of the roofing. Daniel said "We like to do things "outside of the box" and definitely don't cut corners when it comes to our work. We believe in true craftsmanship and functional, durable product."
The container home consists of 3 bedrooms, 2 bathrooms, kitchen, loft area that we use as a tiny theater room, and a large screened in porch with a wood burning stove. Daniel and his wife were able to bring their new baby home to this quaint little space of theirs. A big congratulations to them both!
Daniel also shared, "Here are few more of the outside. We cut the roof out of the center 20 feet of the front container to give us a vaulted ceiling and make it feel more open. It also gave us access to a loft space above the art room/ future bedroom. We spray foam insulated the outside of the containers and then cover the insulation with sheet metal. This enabled us to save all the square footage on the inside. We left the containers exposed on one side of the home to give a color pop. The 6 foot French doors allow us to open up both doors onto the screened in porch, which makes our little home feel a lot bigger. We also love our door in the master bedroom that leads out to the screened in porch. On nice nights, we are able to just open up the door for a lovely nights sleep."
Daniel and his brothers run their own company called One Light Workshop. They design/build houses and commercial spaces such as several coffee shops in their area (West Oak Coffee Bar, Trinity Street Coffee Bar, Kimzey's Coffee shop). Many of the pieces in their home were built by them, and of course the home itself. Mrs. Hayhurst does the art for some of the coffee shops as well, and outfitted their home with the decor you see.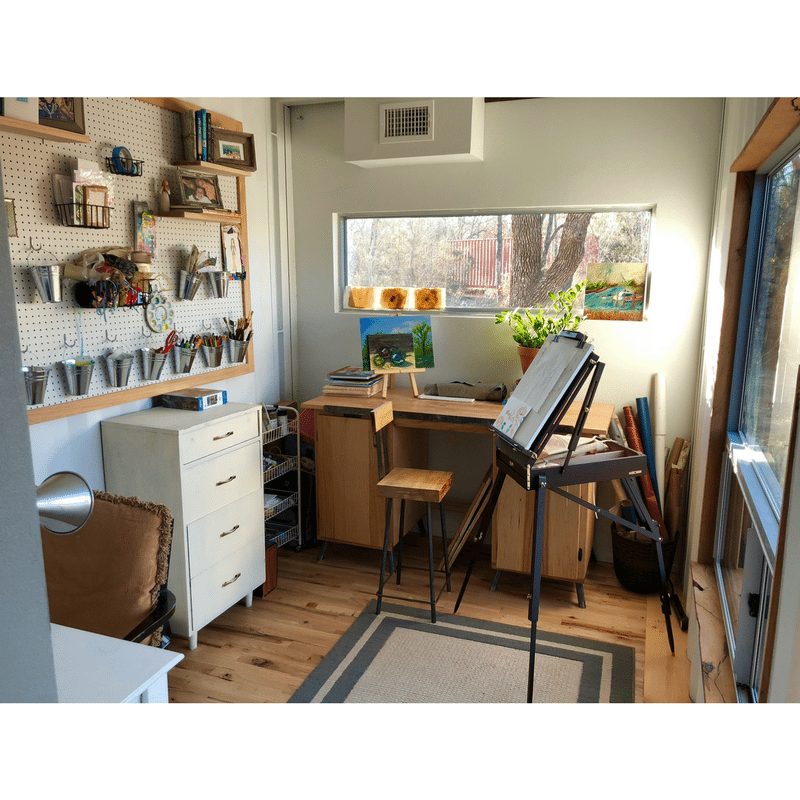 And if this beauty wasn't enough, he shared with Container Home Hub that he is building another container home close by and is currently working on a weekend rental container village on some acreage out in West Texas. Again, impressive!
So what do you think? Would you live here? 🙂
Information Source: Daniel Hayhurst, the home owner
Photo Source: Daniel Hayhurst, the home owner
» Follow Container Home Hub on Facebook for regular shipping container home updates here «