Greetings from Canada! 🙂
This tiny container cabin, designed by Dwell20 is a fantastic, modern-looking country getaway that is at home in any season. Built from Corten corrugated steel, it has the durability to withstand heavy ice and snow as well as any tree or branch falls that might happen in its surrounding area.
On top of this heavy-duty construction shipping container home, it has style to boot as well. We love the custom-built cedar accent panels that adorn the outside and offset the black paint of the metal exterior. This kind of contrast is one of the hallmarks of modern design and it works incredibly well, especially in snowy climates where that contrast pops.
The light fixtures that flank the sliding front door are LED and bright enough to lead the way through any dark night. The double-pane, insulated low-E vinyl windows also help keep this tiny container cabin warm when heat is at a premium.
We love the double swing doors at the far end of this tiny container cabin. By keeping part of the cabin open-ended, you can get a much more open feel when the weather is permitting. When space is at a premium, being able to open up to the outside world is one of the most important things. Tiny house living is all about what you can do with the space you have, and this is a great feature.
The shiplap panel siding that covers the interior brings a little bit of rustic flavor to this tiny container cabin's interior. The light gray also does a great job of opening up the inside and giving the illusion of a little more space where it matters most.
The whole interior of this tiny container cabin is insulated with 2 lb closed cell insulating spray foam. That includes the flooring, walls and ceiling. This is incredibly helpful for keeping the heat inside and the cold outside when the weather turns and heat is most important.
We love the recessed LED pot lights that help the inside of this tiny container cabin glow. The warmth of the lights is a great way to keep the interior cozy and homey feeling without having to clutter up the floor plan with lamps or any light fixtures that might make the walls feel a little bit closer.
With premium vinyl plank flooring, the floor has a cushioned feel that helps make the interior even more inviting. It also helps seal in heat much more than a hardwood or other material might be able to do. This will be much appreciated when the snow starts falling in the winter months.
A fully integrated 30 amp panel allows you to hook up to a regular utility service. You also have the option to convert this tiny container cabin to solar if the climate allows it. This is a great choice if you are getting into the tiny house lifestyle so you can get as off-the-grid as possible. With so many people choosing this option, it is great that you can have the choice to do either if you are not sure how efficient a solar set-up might end up being.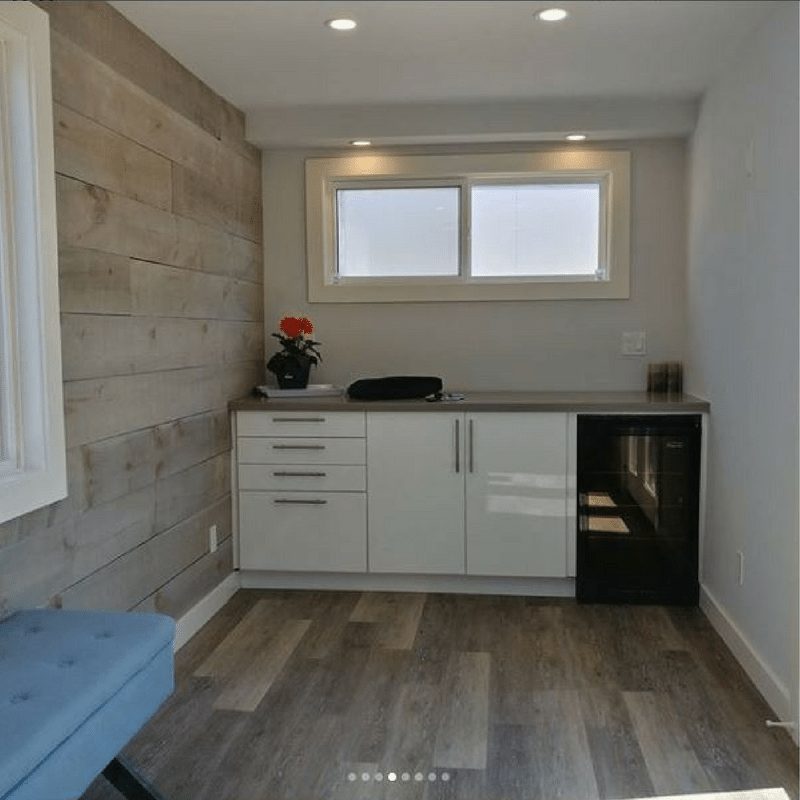 We love everything about this tiny container cabin and its modern, sleek design elements. Both inside and out, it is set up for function and fashion. The simple, straightforward floor plan is perfect for creating a space that you can settle into for years to come and the versatile utility options are perfect for those who are new to rural living. This tiny container cabin is so uncomplicated that it opens up a world of possibilities that are limited only by your imagination.
So what do you think? Would you live here? 🙂
Information Source: Dwell Containers
Photo Source: Dwell Containers
» Follow Container Home Hub on Facebook for regular shipping container home updates here «