Are you a fan of Starbucks? Then you're in for a treat! Starbucks has taken innovation to the next level with its stylish shipping container café in Tukwila.
This unique concept takes creativity and sustainability to a new level. Not only does the design offer an element of surprise, but it also brings numerous benefits. For example, it requires less energy to construct than a regular building.
What's more, the shipping container Starbucks store concept is becoming increasingly popular. Other businesses are starting to implement the same concept. It's a great way to save money and resources while creating something unique.
So, if you're looking for a unique coffee experience, this is the place to be. You can enjoy your favorite latte in an environment that's as creative and sustainable as it is stylish.
With Starbucks leading the way, it won't be long before shipping container cafes become the new normal.
Key Takeaways
The innovative Starbucks made from shipping containers is a must-see spot for coffee lovers and a great example of how businesses are getting creative with shipping containers.
Using shipping containers for business is an innovative and cost-effective way to stand out from the competition.
From cafes and retail stores to many other businesses, they are using this approach to create a unique atmosphere.
Building a café in shipping containers is not only a cost-effective and customizable option but also a sustainable and innovative approach that allows for flexibility, quick construction, and a unique customer experience.
About Starbucks
Starbucks has revolutionized the coffee shop experience with its unique and sustainable Reclamation Drive-Thru in Tukwila, Washington. Located just south of Seattle, this one-of-a-kind Starbucks store offers both walk-up and drive-through customers.
The Starbucks store caters to walk-up and drive-through customers, with no indoor dining area but providing outdoor seating.
These containers were given a second life and saved from their fate as scrap metal at the end of their useful lifespan.
The idea of using a reclaimed shipping container as the foundation for the store was inspired by Starbucks' mission to reduce waste and promote sustainability.
The Reclamation Drive-Thru is located adjacent to the King County International Airport and Boeing facilities, showing Starbucks' commitment to convenience and innovation.
With its stylish design and outdoor seating area, the shipping container Starbucks in Tukwila offers customers an unforgettable experience while also promoting sustainable practices.
Conception
Starbucks' Global Store Design Senior Manager, Anthony Perez, aimed to create a buzz with the company's new eco-friendly stores by making them "green, thought-provoking, and sustainable" and by providing unique experiences that align with the neighborhoods they operate in.
Anthony's efforts paid off as the stores gained significant attention on the internet and in major media outlets.
In line with Starbucks' commitment to sustainability, the company chose to repurpose shipping containers, which they typically use for sourcing and delivering products worldwide, as the building materials for these stores.
This decision not only helped reduce the company's supply chain waste stream but also added an intriguing element to the store design.
Working with shipping containers posed an interesting challenge for Anthony's design team, as they were unable to modify the dimensions of the containers.
This constraint sparked creativity and problem-solving, prompting the team to completely reimagine how to fit everything inside the container space. It became a puzzle that they eagerly tackled and found to be enjoyable during the design process.
Shipping Container Starbucks in Tukwila, WA
More Starbucks In Shipping Containers
Starbucks is introducing a creative, sustainable way to enjoy coffee with its mini cafes built using recycled shipping containers.
Starbucks has constructed 45 innovative coffee shops across the country, following the trend of modular design.
These cafes, inspired by the tiny house movement, are often constructed using recycled shipping containers and other reclaimed materials. This approach not only makes the stores portable but also contributes to their eco-friendly nature.
Aside from Tukwili, customers in Northglenn, Colorado, have also had the chance to experience this unique store design.
These container cafes are compact and portable, allowing for both drive-through and walk-in service. Not only are they convenient for customers on the go, but they also provide an eye-catching design that reduces Starbucks' environmental footprint.
The feedback from customers in Northglenn has been overwhelmingly positive, showing that this creative concept has been well-received. Starbucks continues to innovate and use environmentally-friendly solutions to provide customers with an unforgettable coffee experience.
Starbucks has come up with a smart way to see if people in a neighborhood really want their coffee before building a permanent store there.
They have created portable coffee shops using recycled materials, like shipping containers, that can be easily moved around.
This allows them to test the demand for their drinks in different areas before making a long-term investment in a physical store.
Keep an eye out for more updates on these unique container stores!
Starbucks makes stores from shipping containers
Benefits of Cafes in Shipping Containers
Starbucks in Tukwila is leading the way in sustainable architecture by transforming shipping containers into trendy cafes.
These portable structures are a creative way to enjoy coffee and reduce the environmental footprint. Not only are these cafes cozy and stylish, but they are also made from repurposed shipping containers. This helps to promote recycling and reduce waste.
The transportable nature of these cafes makes them very convenient. They can be easily relocated to areas with high demand or temporary events.
This allows customers to enjoy their favorite beverage without having to worry about the environmental impact of a traditional brick-and-mortar store.
These eco-friendly Starbucks locations are perfect for customers who appreciate both sustainability and good coffee. They offer a unique and cozy atmosphere, while also reducing waste and promoting recycling.
More Business Ideas For Shipping Containers
Looking for more creative business ideas? Consider shipping containers as a unique option! Not only can they be used to create a Shipping Container Starbucks in Tukwila, but they can also be used to create a variety of other businesses.
Modular coffee shops are a great way to utilize shipping containers. These trendy and convenient structures are easy to transport and assemble anywhere, making them an ideal choice for coffee lovers.
Shipping containers can also be repurposed into boutique stores, art galleries, and even mobile offices. The potential for shipping containers is virtually limitless.
They are incredibly durable, affordable, and customizable – perfect for creating a unique business that stands out from the crowd.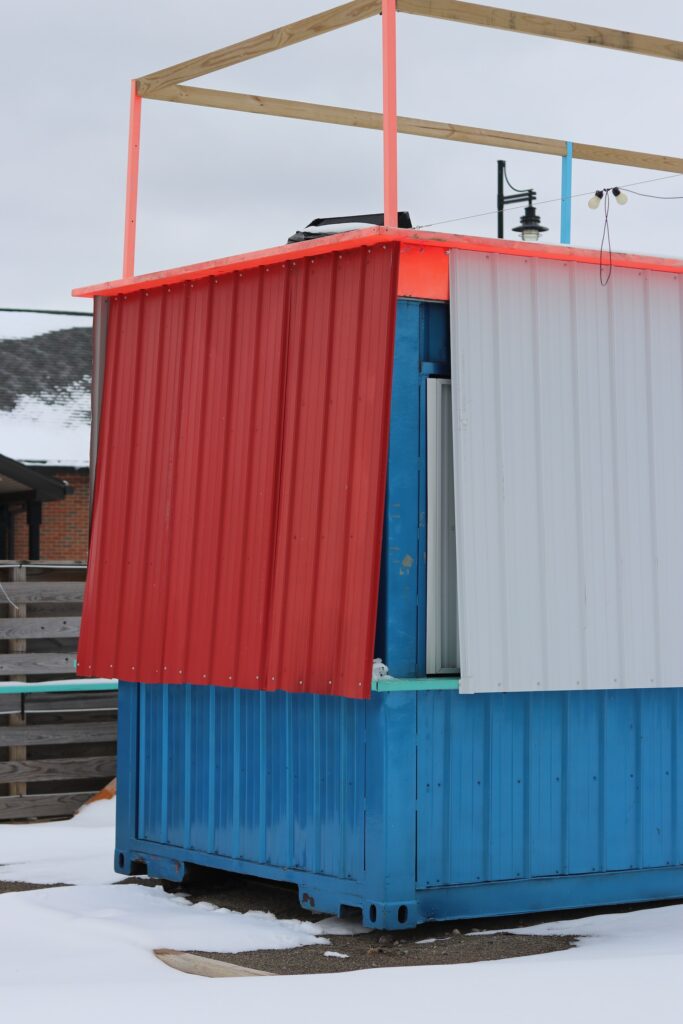 Can You Build Your Own Cafe in Shipping Containers?
Are you considering building your own cafe using shipping containers? It's a unique and cost-effective option that allows you to create an eye-catching and sustainable space.
Here are some steps to guide you in building your very own cafe in shipping containers:
Conceptualize and plan
Start by visualizing your cafe's layout and features. Consider the size and number of shipping containers you'll need to accommodate your desired space and functionality. Think about your target audience, menu offerings, and overall ambiance.
Find the right containers
Look for high-quality shipping containers that are suitable for your project. Consider factors like size, condition, and the possibility of customization. You can purchase containers from shipping companies, online marketplaces, or local suppliers.
Work with professional designers and architects
Enlist the expertise of professionals who specialize in container architecture or cafe design. They can help you with concepts, drawings, and structural modifications that make the most of the container's limited space.
Obtain necessary permits and comply with regulations
Check local regulations and building codes to ensure your cafe meets all safety and structural requirements. Obtain the necessary permits for the construction and operation of a food establishment in your area.
Plan utilities and infrastructure
Determine how you will handle electrical, plumbing, and ventilation systems within the container structure. Make sure to consult with experts to ensure that your setup meets all regulations and ensures a comfortable environment for your customers and staff.
Customization and interior design
Use your creativity to make your cafe visually appealing and in line with your brand's identity. Consider customizing the interior layout and floor plan, selecting appropriate furnishings, and adding unique touches to create an inviting atmosphere.
Kitchen and equipment setup
Plan and install a functional kitchen that meets health and safety standards. Determine the necessary equipment, consider efficient space utilization, and ensure proper storage and preparation areas.
Exterior and outdoor space
Enhance the exterior of your shipping container cafe with aesthetic elements, such as signage, seating areas, or outdoor greenery. Create an inviting outdoor space where customers can relax and enjoy their beverages.
Think sustainability
Incorporate eco-friendly features into your cafe design, such as solar panels, rainwater harvesting systems, or energy-efficient appliances. Pay attention to waste management and recycling practices to minimize your environmental impact.
Opening and marketing
Once your cafe is ready, plan a successful launch by marketing your unique concept. Utilize social media, local advertising, and collaborations with influencers or nearby businesses to generate excitement and attract customers.
Remember, building a cafe using shipping containers requires careful planning and attention to detail. Taking these steps can create an exceptional cafe that stands out while embracing sustainability.
Conclusion
Don't miss the opportunity to explore the trendy Starbucks made from shipping containers. This unique design is not only stylish but also eco-friendly.
It is a must-see spot for coffee lovers and a great example of how businesses are being creative with shipping containers.
Cafes, retail stores, and many more businesses are using shipping containers to create a unique atmosphere. This cost-effective and innovative approach is a great way to stand out from the competition.
So if you're considering a business idea, think outside the box and explore the possibilities of shipping containers. Get creative and take advantage of this trend to make your business truly unique.