Building your own home is a great way to get a house that is perfect for you and your family. There are so many benefits to creating a home that you designed and built yourself.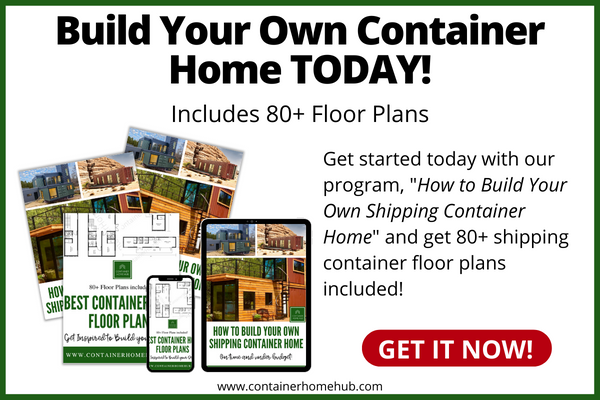 However, if you have ever looked at a custom home build, you know how expensive it can be. That's why building a shipping container home in Wisconsin is such a great option.
In this article, we have laid out everything you need to know about building a shipping container home in Wisconsin. By having a good idea of what it takes to get a home like this built, you can be ready.
Preparation is key for a big project like this, so having as much information as possible is key. Your custom home can be perfect if you are ready with all the right knowledge at your fingertips.
What is a Shipping Container Home in Wisconsin?
A shipping container home is a house built from metal shipping containers.
These containers are usually used for moving goods across the world. Their rectangular shape means they can be put on everything from trucks to trains and boats. It also means that they are a perfect solution to building a unique custom home.
Shipping container homes have become more and more popular in recent years.
Due to the popularity of the alternative housing movement, they are popping up all over. This means that you have more opportunities to get one built than ever before. There are all kinds of banks and builders that will be willing to give you the help you need to get one built.
What Are the Benefits of a Shipping Container Home?
There are a number of benefits to building a shipping container home in Wisconsin.
One of the most prominent ones is the price of construction. Because most of the structure is already built, you don't need to worry about framing or other costs. This can severely cut the price of your build and makes them much more accessible.
Shipping container homes are also incredibly durable and have an all-steel construction.
Because of this, they are not susceptible to things like rot, mold, and mildew. In snowy climates like the one in Wisconsin, this is incredibly important. It will save you a lot of money on maintenance and repairs over the course of many years.
Cost of Building a Shipping Container Home in Wisconsin
Building a shipping container home in Wisconsin costs quite a bit less than a traditional home. Of course, your final price will depend on your design and other things you add to your home.
However, you can count on your container home costing somewhere around $60,700. The bigger you make it, the more it will cost, but this is an accurate average price.
The cost of building a traditional home in Wisconsin is a lot more.
A traditional home build will cost you between $350,000 and $500,000 depending on square footage. Because of this price difference, container homes are much more accessible.
If you are a first-time home builder, you may find that a container home is a better option for you.
How to Choose a Builder for a Shipping Container Home in Wisconsin
One of the most important decisions you will make for your container home is the builder.
The company you hire is incredibly important, so it is best to find a builder with experience. Not every construction company will be focused on shipping container homes.
Finding one that specializes in unique alternative houses will always result in a better final product.
You should also look for a builder who has a good history of excellent customer service.
Look for online reviews of any builder you are considering hiring. This will give you a good idea of how they deal with people and what they are like. Building a home is incredibly personal so it is crucial that you find someone you can get along with.
Container Home Builders in Wisconsin
SI Container Builds, Inc.
SI Container Builds, Inc. builds economical solutions to accommodate spaces for affordable housing, tiny communities and villages, campground, and vacation rentals. Their builds are mostly used for dwellings for backyard and studio spaces.
Factotum Fabricor –
Repurposed shipping containers are their medium to help their clients reimagine what a structure can be. You can reach out to them when you need a commercial and industrial structure built.
Shipped.com helps buyers learn what shipping container is suitable for them and help them. With over 60 depots and thousands of containers on hand, they offer great prices for shipping containers. They have online direct checkout and a digital cart to help you find what you are looking for!
Wiscontainer
Wiscontainer offers new, reconditioned, and used shipping containers in many different sizes and quality levels. Wiscontainer offers 7 different levels of quality to help you find the one that is right for you in your budget.
Sto Cor
Stocor is located in Nekoosa, Wisconsin, and offered multiple different grades of shipping containers, from 1 trip containers to used shipping containers. They offer both 20-foot and 40-foot s shipping container homers at the most competitive prices.
Shipping Containers of Wisconsin
Shipping containers of Wisconsin provide great customer service and quality containers. They serve the entire state of Wisconsin and can deliver your container to anywhere you need it. They are ready to help you with your container needs as they are just a phone call away.
Designing a Floor Plan for a Shipping Container Home
You will need to have a floor plan for your shipping container home in Wisconsin before beginning.
Your floor plan will dictate how the containers are arranged and how many bedrooms and bathrooms you have. You and your builder will use the floor plan to come up with a layout of the containers.
Because of this, it is one of the most important aspects of your build.
To get your floor plan designed, write out a list of all the things you want from your home. Then, take this to a professional draftsman.
They will then create a floor plan to scale that will lay out your home's flow. Then, you will use this throughout the whole build to guide the construction and design.
Where to Find Insurance for Your Shipping Container Home in Wisconsin
You will also need to get insurance for your shipping container home in Wisconsin.
Insurance helps protect your investment and keeps you and your family safe. However, it can be difficult to get the right policy for an alternative house. Fortunately, there are some things you can do to get around this and get the right coverage.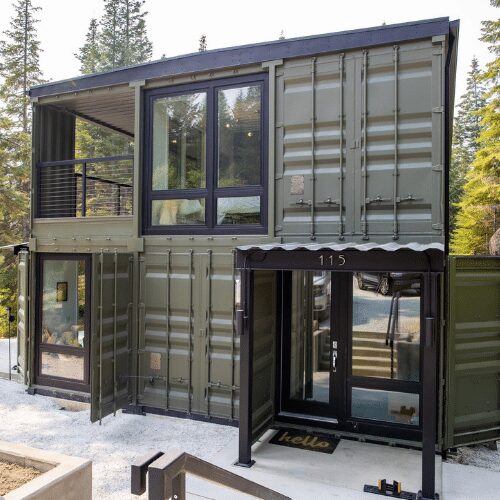 When building your container home, keep track of all your spending and construction costs. Then, once your home is built, get it appraised by a professional home appraiser. With this information, work with an insurance agent to get the coverage you need for your home. They will use the value of your home to create a policy that works for you and your family.
Conclusion
By understanding what goes into building a shipping container home in Wisconsin, you can be ready. If you are excited about building your own custom home, being informed is crucial. It will allow you to be ready for any eventuality and know what steps to expect.
If you would like more helpful information on building a container home, check out the rest of ContainerHomeHub.com. There, you will find resources and builders who can help make your dreams come true. You will also find featured homes that will get you inspired and thinking about your own custom dream house.