Are you dreaming of creating a unique home that stands out from the crowd? Are you looking to build a shipping container home in Texas?
This comprehensive guide is designed to help you understand the process and make informed decisions.
We'll cover everything from the cost of building a container home in the Lone Star State to finding reputable builders and marketplaces.
You'll also learn about financing options, taxes, insurance, and even find floor plans tailored specifically for Texas.
Whether you're a DIY enthusiast or looking for professional help, this guide will provide you with useful insights.
So get ready to turn your dream into reality and embark on an exciting journey towards owning your very own shipping container home in Texas!
Key Takeaways
Building a shipping container home in Texas is becoming more and more popular due to its many advantages.
These include durability, versatility, and environmental friendliness. Before getting started, there are several important things to consider.
The cost of the project is the most crucial item to budget for. Estimate the cost by considering your home's size, design, and materials.
Find a reputable builder or marketplace, secure financing options, and understand the tax implications. You should also get the right insurance coverage for the property.
Utilizing well-designed floor plans can also help ensure a smooth construction process.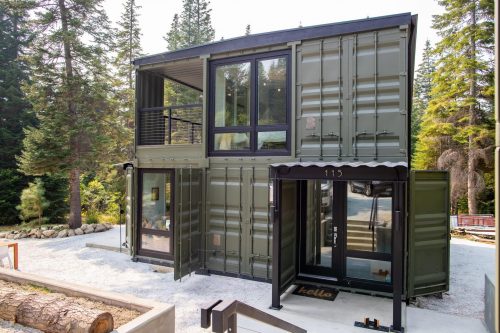 What Is a Container Home, and What Are Some of the Advantages?
Building a container home in Texas can be a great way to save money and time compared to traditional stick-frame construction methods.
Container homes, also known as shipping container homes, are custom houses built using shipping containers that are typically used for transporting goods from one place to another.
These container homes range from tiny houses made out of one container to multi-story mansions made of multiple containers.
These containers are an excellent choice for those who are looking to build a tiny home or cabin, as they are both affordable and durable.
Another great advantage of container homes is their unique and stylish design. The boxy and rectangular shape of steel shipping containers makes them perfect for creating a mid-century-inspired home.
With the right container home builder, you can create your dream custom container home in no time. This type of construction is also much faster than traditional methods, taking only about half the time.
With the right builder, you can have your dream home built in no time.
Cost of Building a Shipping Container Home in Texas
Building a container home in Texas can be an excellent way to create a unique living space without breaking the bank.
Container Home Cost Versus Traditional Homes
The average cost per square foot for a container home is significantly lower than traditional construction, making it a great option for those looking for a cost-effective solution.
On average, a shipping container home costs around $105 per square foot, compared to the average cost of $134 per square foot for a traditional home.
With the extra money saved on construction costs, you can also afford to add custom furnishings and personal touches to your container home.
From various layouts to finishes, you'll have the freedom to design your own space exactly as you want it.
Estimating the Price
The total cost of constructing a shipping container home depends on a lot of factors, namely:
Size and Dimensions: Larger shipping container homes require more materials and labor, resulting in higher costs.
Location: Construction costs vary based on site accessibility, site preparation, permits, and utility connections.
Design and customization: Complex and customized designs with unique layouts or extensive modifications increase expenses.
Quality of materials and finishes: higher-quality materials for exterior and interior finishes, insulation, roofing, flooring, and fixtures result in higher costs.
Site conditions: Challenging site conditions like soil stability or environmental factors can increase construction expenses.
Permits and approvals: Obtaining necessary permits, plans, and engineering approvals contributes to the overall cost.
Transportation and installation: Transporting and installing containers, particularly in remote or difficult-to-access sites, incurs additional expenses.
Utilities and infrastructure: Connecting the home to water, electricity, and sewage systems can vary in cost based on distance and complexity.
Interior amenities and systems, including plumbing, electrical, and HVAC systems, add to the construction cost based on complexity and capacity needs.
Labor and professional fees: Hiring contractors, architects, engineers, and other professionals will incur costs based on location, experience, and scope of work.
The total cost of a 20-foot shipping container is typically around $5,000, while a 40-foot container can be as expensive as $32,000.
Texas Container Home Builders
Looking to build a beautiful and unique container house in Texas? You're in luck—the Lone Star State is home to some of the best shipping container home builders in the country that can make your custom shipping container home a reality.
Stackhouse Container Homes
One of the leading container home builders in Texas is Stackhouse Container Homes. Known for their innovative use of technology, they offer exceptional home design services. Collaborating closely with clients, they ensure each residence is distinctively unique and visually stunning.
Container Places
If you are seeking a builder in Texas who shares a strong belief in the ecological advantages of container homes, Container Places may be the ideal choice for you. They strive to provide sustainable homes that are tailored precisely to meet your specifications.
Backcountry Containers
In Texas, Backcountry Containers offers container homes built using 20-foot and 40-foot containers. They provide the flexibility to arrange these containers in various configurations, ensuring customer satisfaction with the design and a comfortable living experience in their container homes.
Shipping Container Home Marketplaces
Container homes are a unique and affordable solution for those who want to build a home in Texas. With a wide range of customizable options, it's easy to find the perfect home to suit your individual needs.
Online marketplaces are an excellent way to explore the many container homes available for sale in the Lone Star State. Here, buyers can browse listings from a variety of specialized container home builders and companies.
Whether you're looking for a cozy small space or a spacious family home, these marketplaces provide a great selection of options.
Shipped.com helps buyers learn what shipping container is suitable for them and help them. With over 60 depots and thousands of containers on hand, they offer great prices for shipping containers. They have online direct checkout and a digital cart to help you find what you are looking for!
Kountry Containers
Kountry Containers, nestled in the scenic hills of Central Texas, embodies a unique lifestyle rather than a mere brand. With expertise in crafting extraordinary shipping container homes, they handle the construction process within their own facility.
Once the customized homes are delivered, your sole concern is connecting the necessary hook-ups and utilities.
Container King
Container King offers a wide selection of new and pre-owned shipping containers at highly competitive prices. To guarantee their quality, each container is meticulously inspected by their team.
Whether you are looking for a new or used container, Container King has you covered. Their containers are conveniently available for purchase in North Texas.
XCaliber
If you're in need of a pre-owned shipping container, XCaliber is an excellent resource to consider. They have a solid track record, having served customers for over 15 years, and are known for their exceptional customer service.
XCaliber offers a wide range of options, including storage containers, residential containers, and commercial containers. Their headquarters, located in Graham, Texas, can be visited by appointment.
Conex Depot
Conex Depot, established in 2009, aims to provide customers with high-quality shipping containers at the most affordable prices.
Container Home Financing in Texas
Are you dreaming of owning a unique and affordable home in Texas? Let's explore the financing options that are available for container homes.
There are a few ways to finance your container home project. One option is to work with a container home builder that offers financing.
These builders often have partnerships with specialized lenders, which can make the process easier and more streamlined.
Farm Credit Bank of Texas
With a century-long history, Farm Credit Bank of Texas has been supporting numerous individuals in obtaining the necessary funding for their projects.
If you aspire to construct your ideal container home in Texas, they possess suitable loan options tailored to your needs.
Texas Farm Credit
If you are looking for a loan for your container home in Texas, Texas Farm Credit can provide both construction and land loans.
They are willing to work with you to determine the most suitable terms and conditions for your specific needs. If you require a flexible loan option, they could be an excellent option for you.
Other Alternatives
You can also secure traditional financing through a bank or mortgage lender. When doing so, it's important to find a lender who is familiar with container homes and can provide the necessary resources.
Regardless of which financing route you take, make sure that your container home meets all building code requirements in Texas.
This includes proper insulation (such as spray foam insulation), window and door installations, and adherence to local regulations regarding build time and permits.
Container Home Taxes in Texas
In Texas, container homes are generally subject to the same tax rules as traditional homes.
The determining factor for taxes on shipping containers lies in their specific use and location. For instance, if a shipping container serves as a storage unit on private property, it may be regarded as taxable real property.
However, if they are used only as a temporary office on a construction site, they are generally not taxable.
Property taxes are based on the assessed value of the property, which includes the value of the land and improvements (including container homes) on the property.
The appraised value of a container home in Texas is determined by the local county appraisal district. The appraisal district considers factors such as the size, condition, and location of the container home when assessing its value.
Once the appraised value is determined, the property owner will receive a property tax bill, which is typically due in installments or as a lump sum.
The property tax rate varies depending on the county and local taxing entities, such as school districts and municipalities.
Please consult with a local tax professional or the county appraisal district for specific information and guidance on container home taxes in Texas.
Container Home Insurance in Texas
Finding an insurance company that understands the value of container homes and offers comprehensive coverage can be challenging.
That's where an experienced insurance agent comes in. They can guide you through the process and help you select a policy that suits your needs.
Inform your agent about important details of your home, such as off-grid capabilities, square footage (in ft2), and whether your dwelling consists of one large container or multiple units combined.
It's highly recommended to work with an experienced insurance agent, especially one with experience with container homes. Do your own research about insurance agencies and read client reviews of the company.
Container Home Floor Plans in Texas
When planning a container home in Texas, you can create a floor plan that suits your needs.
Start by considering the size of your family, the number of bedrooms and bathrooms you need, and the living spaces, including a kitchen, dining area, and entertainment rooms.
Think about any additional features you'd like to include, such as outdoor decks or storage solutions. Make sure your floor plan is built to withstand Texas' unique climate conditions and can be modified as needed.
For help turning your vision into reality, consider enlisting the help of a professional draftsman familiar with container homes.
They can help you make the most of your space and create a floor plan that meets your requirements.
Take the time to brainstorm what you'd like for your dream container home in Texas, so you can create a customized floor plan that is tailored to your needs.
Tips for Building Your Container Home in Texas
If you're looking to build a container home in Texas, there are a few essential tips you should consider.
Make sure to get all the necessary permits and follow any legal regulations to ensure a smooth process.
Hire a professional contractor who specializes in tiny homes and container builds. Make sure they have experience in restoring and building historic structures, as this is a unique type of construction.
Opt for high-quality craftsmanship. Invest in the best materials you can afford and look for ways to make your home more eco-friendly.
If you need more square footage, consider connecting multiple containers to create a larger living space.
Plan your layout carefully. Think through how to maximize space utilization and create efficient storage solutions.
Consider clever furniture arrangements and design features that make even a small container home feel spacious and functional.
Frequently Asked Questions
Are there any restrictions or regulations that need to be followed when building a container home in Texas?
When building a container home in Texas, it is important to obtain the necessary permits, adhere to local zoning laws, meet safety and structural requirements, and ensure proper connections to utilities.
How long does it typically take to build a container home in Texas?
Building a container home in Texas can take anywhere from 4-6 months. It is a process that involves a variety of steps, from obtaining permits and preparing the site to installing the foundation and completing the finishing touches.
Can I customize the design and layout of my container home?
Yes, you have the freedom to customize your container. You can create a living space that is truly unique and tailored to your individual needs and preferences.
Are container homes energy-efficient and environmentally friendly?
Container homes offer an eco-friendly and energy-efficient living option thanks to their compact design, use of recycled materials, and potential for sustainable features like solar panels and rainwater harvesting systems.
Can I get a mortgage or loan to finance the construction of a container home in Texas?
Yes, it is possible to finance the construction of a container home in Texas with a mortgage or loan. Many lenders offer special financing options for alternative housing projects like container homes.