Building your own home can be an incredibly exciting and rewarding process that everyone dreams about at some point in their lives. Designing and building a home that is perfectly designed to your own specifications is something that almost everyone wants to do and can make living in your house more convenient and more fun for you and your entire family. However, if you have ever looked into what it takes to build a home from the ground up, you may have been shocked by the amount of money and time it takes. This is enough to put off almost anyone and can make a custom home inaccessible to most people.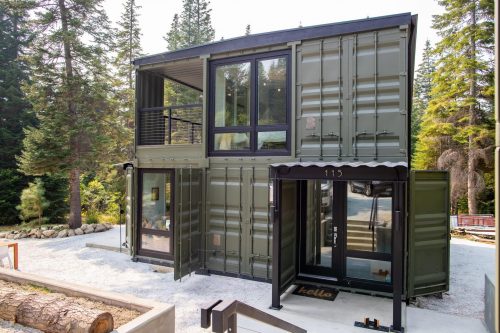 That's why building a container home in Texas is such a great idea for so many different people. With the advent of the alternative housing movement, there are more and more banks and builders that understand the process of building one of these kinds of homes and what it takes to get it up off the ground. Because homes like tiny houses, barndominiums, and shouses are getting more popular, there has never been a better time to build a container home in Texas.
In this in-depth guide, we have laid out everything you need to know in order to get your container home in Texas built. By understanding the process and what it takes, you can give yourself a much better chance at success with your own build.
What Is a Container Home and What Are Some of the Advantages?
A shipping container home is a house that is built from steel shipping containers that are arranged in such a way that they make a beautiful, unique custom home. These containers are usually used to ship goods around the world on trains and boats and their steel construction makes them a durable material to use for building homes. There are a lot of advantages to building this kind of house and understanding what they are can help you decide if it is right for you.
One of the main benefits of building a container home in Texas is the fact that they can be so cheap. Because you don't need to build a stick frame from scratch like you do with a traditional home, you can end up saving a lot of money on your construction. Plus, container homes take about half the time to build than traditional homes do, so you can save money and stress when it comes to how long it takes to get your home up off the ground.
One of the other major benefits of building a container home in Texas is their unique design. Their boxy, rectangular shape makes them an ideal material for building homes. This is especially true if you are a fan of the mid century modern style. The angular, symmetrical design of the containers strikes a very unique profile and can give you a unique home style.
Cost of Building a Container Home in Texas
Once you have decided to build a container home in Texas, you will probably want to decide what your budget will be. The best way to do this is to figure out the cost per square foot. When you are building a home from scratch, making your budget this way is a great way to learn how big your plot of land needs to be as well as how much home you can actually afford. You can figure out how many bedrooms and bathrooms you can put in your container home in Texas and get a good idea of what it will end up looking like.
The cost of building a traditional home in Texas is around $134 per square foot. One thing you should consider with this number, though, is that it does not include the finishing work that is required in order to make your home livable. Things like cabinets and countertops are not included and you will need to add extra money to your budget so you can pay for these things. This can make your budget grow quite a bit over time.
The cost of building a container home in Texas is quite a bit less. You can usually get your basic structure built for about $105 per square foot. With this extra money in your budget, you can afford custom furnishings and all the things you would want to include in a home you are building yourself.
Container Home Builders in Texas
Once you have settled on a budget, you will then want to decide who you are going to hire to do the actual building. Many people consider doing the construction themselves, but this can create problems if you aren't familiar with your local building codes or zoning laws. Hiring a professional will be your best bet, however, it can be difficult to navigate the construction business. Knowing what to look for in a builder can help you make the right decision.
One of the most important things to look for in a builder for your container home in Texas is expertise in this type of building. Not all builders will have experience with container homes and this specific kind of home needs a very specialized kind of knowledge. If possible, find a builder who only builds these homes and can get you the best final product possible.
You should also look for a builder who has a good reputation when it comes to customer service. Look at online reviews of any builder you are considering hiring and see what their former clients have to say about the way they treated them and their customer service experience. If you can, ask for references from any builder you are thinking about working with. To help you get started, we have put together a short list of some of the best builders for your container home in Texas.
Stackhouse Container Homes
Stackhouse Container Homes is one of the most popular container home builders in Texas. They use state-of-the-art technology to design your home and can work with you to create something that is incredibly unique and beautiful.
Container Places
Container Places believes that everyone deserves to live in a sustainable home that is designed to their exact specifications. If you want to work with a builder who believes in the ecological benefits of a container home in Texas, they could be your best bet.
Backcountry Containers
Backcountry Containers uses both 20-foot and 40-foot containers to build their container homes in Texas. They can arrange them in any way you see fit to make sure that you are happy with your design and able to live comfortably in your container home in Texas.
Shipped.com helps buyers learn what shipping container is suitable for them and help them. With over 60 depots and thousands of containers on hand, they offer great prices for shipping containers. They have online direct checkout and a digital cart to help you find what you are looking for!
Kountry Containers
Kountry Containers in located in the hills of Central Texas. They look at themselves as a lifestyle rather than a brand. They build your shipping container home in their facility and once they are delivered you only have to worry about hook ups and utilities.
Container King
Container King supplies new and used shipping container at really great prices. They personally hand check each container to ensure they meet all quality standards. Container King containers are available to purchase in North Texas.
XCaliber
If you are looking for a used shipping container, then XCaliber is a great place to search. They have been in business for over 15 years and provide great customer service. They provide storage containers, residential containers, as well as commercial containers. You can make an appointment to visit their headquarters in Graham, Texas.
Conex Depot
Conex Depot has been in business since 2009. The goal of Conex Depot is to bring you, the customer, quality shipping containers at the lowest possible price.
Texas Shipping Container
Texas Shipping Container is based out of Montgomery, Texas. They provide new and used shipping container homes and pride themselves on their customer service and quality containers.
Western Container Sales and Rental
Western Container Sales and Rental is a employee owned and operated company out of Minneapolis that provides shipping containers in Texas. They offer containers to their customers at a wholesale mark-up so the process of buying your shipping containers is a simple one.
Container Home Financing in Texas
Farm Credit Bank of Texas
Farm Credit Bank of Texas has been in business for over 100 years and in that time they have helped thousands of people get the financing they need for their projects. They can help you build your perfect container home in Texas and have a loan that works for you.
Texas Farm Credit
Texas Farm Credit offers both construction and land loans and they can work with you to get you the terms and conditions that will work best for your container home in Texas. If you need flexibility with your loan, they could be a fantastic choice.
Container Home Taxes in Texas
You will need to pay taxes on your container home in Texas just like you would with a traditional home. However, there may be different rates that you will be responsible for because of the unique makeup of your home. Work with a local tax assessor to figure out what you should be paying and whether or not you are eligible for any tax breaks due to the sustainability of your container home.
Where to Find Container Home Insurance in Texas
You should be able to get insurance for your container home in Texas anywhere you get traditional homeowner's insurance. However, you may have a bit of a hard time finding a company that knows how to value your home and can provide you with the best possible policy to protect it. Work with an insurance agent to make sure that you have a policy that will protect your home and that it will be covered in the event of any kind of emergency or disaster.
Container Home Floor Plans in Texas
Your floor plan is one of the most important things you will put together for your container home in Texas. This will determine the layout of your home as well as where all the bedrooms, bathrooms, and living areas will be. To get this put together, write out all the things you want for your container home in Texas and bring this list to a professional draftsman. They will then turn this into a working floor plan for you and your builder.
Conclusion
By reading this guide, you should have a good idea of what it takes to build a container home in Texas. Having this information handy will allow you to be prepared for the process so you won't have any surprises along the way.
If you would like even more helpful information, be sure to check out the rest of Container Home Hub. There, you will find more in-depth guides like this one as well as some tips and tricks from the container home pros. You will also find featured container homes that can inspire you and get you thinking about your own custom dream home.