Building a home is an incredibly challenging undertaking but can be very rewarding. Being able to move into a home that you have designed yourself is a joy. However, it can also be incredibly expensive and a very long, drawn-out process. That's why building a shipping container home in Arizona can be such a fantastic alternative.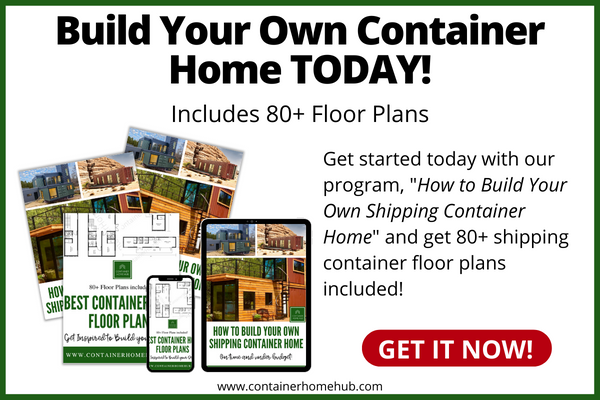 A shipping container home is a great way to get to the home of your dreams without spending a fortune. Made from recycled materials, container homes are also incredibly eco-friendly. In this article, we have laid out everything you need to know about building a shipping container home in Arizona. By understanding the process, you can get started on your own, unique dwelling.
What is a Shipping Container Home in Arizona?
A shipping container home is a house built from metal shipping containers used for transportation. These boxes are generally used to move goods on ships, trains, and trucks and there are many of them available. When they are no longer suitable for shipping, they are usually stored or recycled. This is why they can be so inexpensive and a great material for building a home.
Shipping containers are perfectly suited as sections for a building due to their size and shape. They can be arranged in many different ways and can be used to create interesting floor plans. Shipping container homes have a unique, mid-century modern look due to their boxiness. This makes them ideal if you want a home that will stand out from the crowd and last for years.
What Are the Benefits of a Shipping Container Home?
One of the main benefits of building a shipping container home in Arizona is their simplicity. The shipping containers simply need to be modified and arranged in a way that will work for you. This can be done by creating an interesting floor plan and with careful construction. By finding the right design, you can create a home that will work for you and your family.
The other major benefit of building a shipping container home in Arizona is the abundance of land. In Arizona, several undeveloped lots are perfect for building. Finding the right plot of land is always difficult for a home builder. A shipping container home in Arizona is the perfect solution.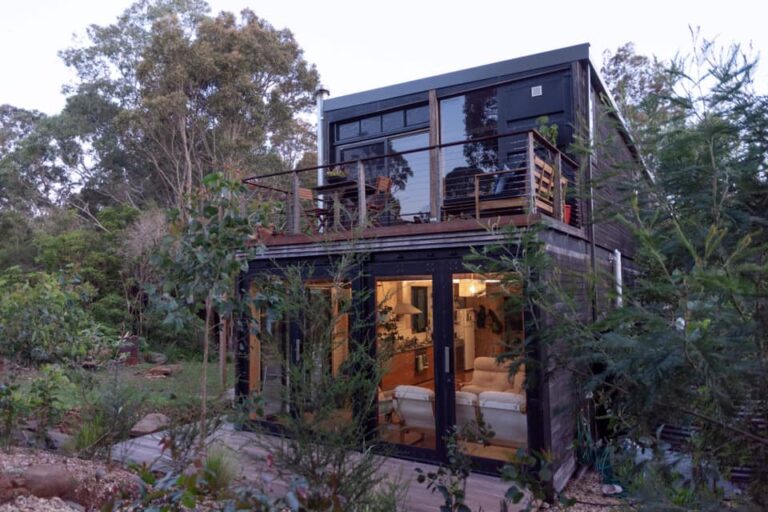 Cost of Building a Shipping Container Home in Arizona
Since shipping container homes can be much less expensive to build, it is important to budget. They can have a wide variety of price ranges depending on things like size, complexity, and more. The cost of your container home will be largely dependent on your design. By understanding the ranges, you can design a home that will fit within your budget.
A shipping container home in Arizona will usually cost between $11,179 and $93,162. When you compare this to the cost of a traditional home, you can see a major difference. A traditional home in Arizona will cost between $170,000 and $480,000 to build. This lower price opens up shipping container homes to a much wider variety of people.
How to Choose a Builder for a Shipping Container Home in Arizona
One of the most important decisions you will make for your container home is the builder you hire. When searching for a builder, be sure to look for companies that have experience with these homes. Many construction companies have experience building houses. However, finding a builder who specializes in container homes specifically is essential to a successful project.
You should also spend time looking for builders who have good reviews. You can tell a lot about a contractor by what their previous clients have to say about them. Look online for testimonials and find a builder who has a good relationship with the people they have worked for. This will help you narrow down your search and find a builder who will be on your side throughout the process.
Shipped.com helps buyers learn what shipping container is suitable for them and help them. With over 60 depots and thousands of containers on hand, they offer great prices for shipping containers. They have online direct checkout and a digital cart to help you find what you are looking for!
Western Container Sales and Rental
Western Container Sales is a division of Railbox Consulting and is employee-owned and operated. They are one of the largest buyers of used shipping containers throughout the United States. They offer containers to their customers at wholesome mark-up pricing and make the process of buying easy.
Aztec Container
Aztec Containers have been in business since 1969. Since then they have expanded and grown their company to help you find the best shipping containers as well as offer modifications such as painting, vents, door, etc to help get you exactly what you are looking for.
On Site Storage Solutions
On Site Storage Solutions have been selling and renting new and used shipping containers since 2002. The offer some of the best prices that they guarantee.
Designing a Floor Plan for a Shipping Container Home
The floor plan for your shipping container home in Arizona is incredibly important. This is where you will make decisions such as how many containers you need. It is also where you will decide how everything will be laid out. This includes things like the number of bedrooms and bathrooms and where they will be located.
To design your floor plan, write down everything you want to include with your container home. Then, take this list to a professional draftsman. They will be able to take your ideas and turn them into a workable floor plan. Your builder will then use this during construction to create your home.
Where to Find Insurance for Your Shipping Container Home in Arizona
One of the most important things to find for your container home is insurance. This will not only protect your investment, but it will also protect everything inside the home. It can be difficult to find insurance for a shipping container home simply because insurance companies aren't informed. You may have to shop around at different companies before you can find one that will cover it.
One of the reasons insurance companies may not cover the home is that they don't know how to value it. To help with this, you can get an appraisal from a professional home appraiser and bring it to the company. You should also work with an insurance agent directly. They will be able to help you and get you the coverage you need.
Conclusion
Building a shipping container home in Arizona can be a rewarding undertaking with a lot of benefits. While it may be challenging to get up off the ground, you can end up with an excellent final product. With careful planning and patience, your container home can be a place you will love for years.
If you would like more guides like this one, be sure to check out the rest of ContainerHomeHub.com. There, you will find information on building container homes as well as featured homes. These guides can help you build the container home of your dreams and get your project started.