Are you looking for ways to get the most out of your shipping container? We've got you covered. With exterior additions such as corner fittings, and interior lashing rings, and other attachments, you can easily upgrade your container to suit your requirements.
Attaching and adapting accessories to your container is now easier than ever. Whether you need extra storage, secure tie-down points, or custom shelving, these attachments will give you the flexibility to do it all.
In this article, we will explore the various types of attachments available for both the inside and outside of your shipping container.
With this knowledge, you can use the space inside and outside your container to its fullest potential. So get ready to turn your standard shipping container into the perfect solution to fit your needs.
Key Takeaways
Adding accessories to your shipping container is simple and efficient.
Exterior corner fittings can secure external items like solar panels or ventilation systems, while lashing rings inside provide extra security for heavier items.
Design solutions such as shelves and hooks can be installed for interior organization.
With these attachment options, adapting your container to any special needs or requirements is easier and more precise.
What Are Shipping Container Accessory Attachments?
Shipping container accessory attachments are the ultimate customization tools for any container. They allow you to enhance the capabilities of your container by adding locks and shelves for added security and storage.
These attachments are designed to make your container more accessible and improve air circulation with ramps and vents.
With these accessories, you can easily transform your container to meet your specific needs. Whether you need to store heavy items, ensure the safety of your belongings, or regulate airflow, these attachments can help you achieve it all.
Create a functional and versatile space with shipping container accessory attachments.
How Can You Add Attachments To Your Container Home?
When it comes to adding attachments to your shipping container, you have two options: permanent or semi-permanent.
No matter which option you choose, whether it be permanent or semi-permanent, you can rest assured that your attachment will remain secure and in place, ready to serve its purpose effectively.
Permanent Attachment
Welding is an effective way to fasten attachments to a shipping container. It requires access to a welder and steel attachments.
It's suitable for attaching various accessories such as lighting fixtures, container locks, bolt-on twist locks, rollup doors, shelving systems, and ventilation units.
However, it's important to consider the specific properties of the attachments being welded and their compatibility with the container's surface.
Welding should only be used for permanent attachments. Removing them would require cutting or grinding.
Additionally, make sure that all welded attachments are properly sealed and protected against corrosion or damage from external elements.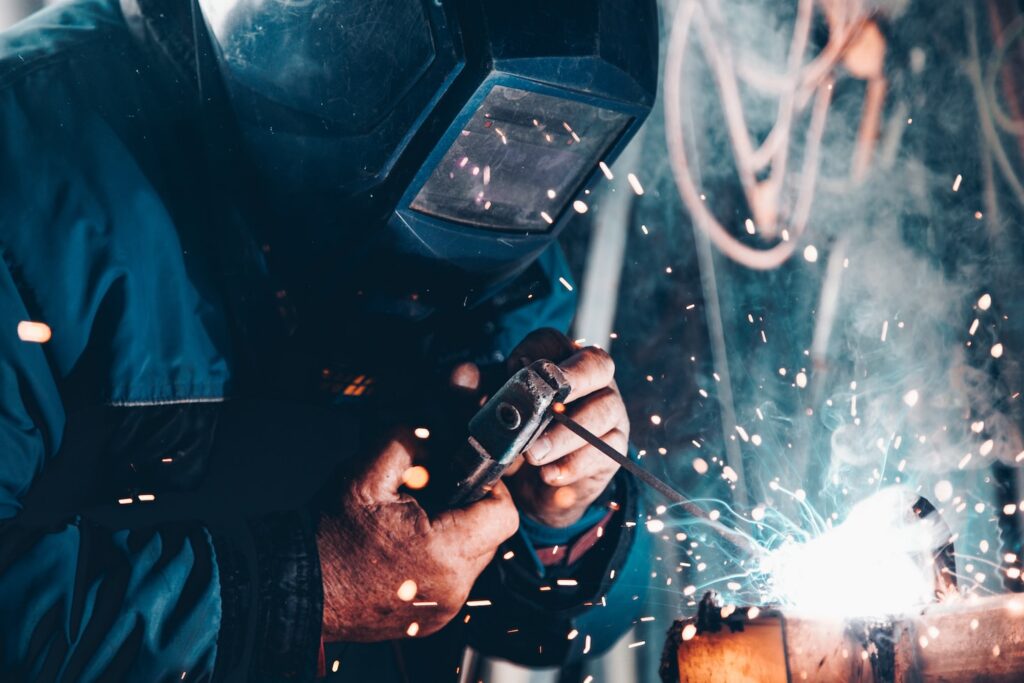 Semi-Permanent Attachments
For easy installation and removal with minimal damage, bolts, and clamps offer a versatile and convenient way to attach accessories to your shipping container.
If you need a semi-permanent solution, twist locks are a great option. These systems are secure and strong yet still allow for easy removal if needed.
Twist locks can be used to attach multiple containers together or to attach accessories such as ramps, locks, corner castings, shelving, lashing rods, and sidewall attachments.
Pre-drilled holes and brackets also allow you to use bolts to securely attach these accessories.
With these attachment methods, you can easily adapt your shipping container or add more features while still maintaining the container's integrity.
Exterior Attachments
When it comes to exterior attachments, corner fittings are an ideal option. Here are some examples of what you can add:
Wheels
Adding wheels to your shipping container can make transporting it a breeze! Whether you're looking for a bottom-mount option with twist-lock mechanisms and swivel casters or side-mount wheels with corner fittings, there are plenty of options to choose from.
Consider automotive wheel hubs and stub axles so you can use regular car wheels and tires for easy installation. For smoother surfaces, consider urethane-coated steel wheels.
However, if you need to traverse uneven terrain, pneumatic tires are the better choice due to their larger diameter and compressible nature.
If lifting the container is not practical, hydraulic jacks can be used to lift the container and place all its weight on the wheels for easy transportation.
Doors
Adding wall-mounted doors to your container building is a simple yet effective way to create a more spacious and versatile space.
No expensive and complex modifications to the container itself are needed – just mount the standalone door frame using the corner castings.
Steel frames ensure stability and durability, and the fittings and brackets used in the installation process are designed specifically for this purpose. Plus, these doors often come with a padlock mechanism for added security.
With wall-mounted doors, you can easily open up or close off spaces as desired, giving your structure more flexibility and adaptability.
Doors are essential accessories that not only enhance functionality but also give your project a more polished look.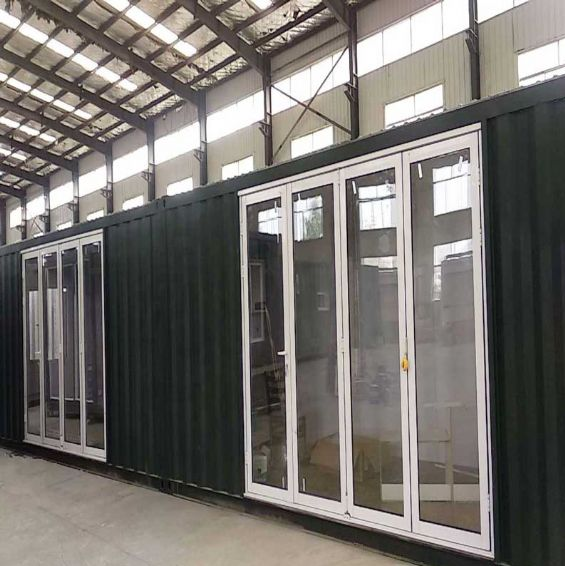 Photo from TD Container House
Lashing Rod Cantilevers
Lashing rod cantilevers offer a secure and efficient solution for extending your container building horizontally without needing extra foundation support.
They consist of turnbuckles, hooks, and corner castings taken from shipping containers. These components are fastened to the bottom of an outboard container and hooked onto a connector on the top of an inboard container. This creates a strong and balanced platform for extra space or expansion.
Installing lashing rod cantilevers requires careful planning and the help of an engineer. The engineer will assess the load requirements and ensure that the installation is done correctly. With the right set-up, you can unlock a world of possibilities for your container-based creations.
Custom Mounting
A clamp is an ideal solution if you're looking to customize a project with a shipping container. It attaches and adapts various items without damaging the container, using regular metric bolts. You can securely attach signs, antennas, lighting, awnings, balconies, or even sports equipment.
These clamps are designed for mounting solar panels or ventilation ducts. They are typically made of stainless steel or aluminum and can be easily installed without drilling holes into the container.
Plus, you can further expand its capabilities by attaching other accessory clamps like floodlights or security cameras.
A clamp transforms obscure container corner fittings into a more common attachment point, with durable construction to ensure attachments stay in place.
You can even use a pole attachment to raise devices above the roofline for improved coverage. All in all, it offers endless possibilities for unique and adaptable container mounting options while preserving the container's integrity.
Corner Brackets And Corner Rails
Corner rackets are L-shaped metal brackets that can be bolted or welded to the corner of the shipping container. They provide a sturdy base to secure solar panels or ventilation system mounts.
Corner rails are long metal or aluminum rails that span the length or height of the container's corner. They can be attached to the container either by welding or bolting and provide a customizable mounting solution for solar panels or ventilation systems.
Interior Attachment
Interior of Container Home by TD Container House
Organizing the interior of your shipping container is made simple with two key attachment options: standard shelves and pipe racks.
Both options provide a practical solution for securely storing items inside your container.
Standard Shelves
Standard shelves are a convenient and adaptable option for maximizing your shipping container's interior space.
Installing these shelves is a simple process that allows for customization based on your specific storage needs.
The key elements of these shelves are the brackets and runners. The brackets are strong and securely attached to the container walls, providing stability and the ability to handle heavy loads.
Made from durable materials, they ensure the safety of your storage items. The wooden plank runners span across the brackets, creating a horizontal surface suitable for boxes or other items.
By incorporating these standard shelves into your container, you can efficiently organize your belongings and make the most of your available space.
Whether you require additional room for tools or personal items, these easily attachable shelves are an ideal solution for enhancing the functionality of your container's interior.
Pipe Racks
Pipe racks are designed to provide an efficient and secure storage solution for your long and self-supporting objects.
They have a rearward sloping profile that ensures nothing rolls off during transport or storage, saving valuable space within your shipping container.
The unique design of our pipe racks keeps round profile objects like pipes and rods in place without the need for shelf runners. This makes them an attachable and adaptable accessory for your container.
Simple and creative, pipe racks are the perfect option for securely storing and transporting your pipes and other items.
Other Interior Lashing Ring Options
Lashing rings offer a range of interior storage solutions for shipping containers. Besides narrow shelving, they can secure bulk overhead storage, loft overhead storage, and privacy curtains.
For longer items that need to be kept out of the way, secure them close to the ceiling with a chain or cable between upper lashing rings on both sides of the container.
For smaller items, create loft overhead storage by using rigid shelves hung from vertical risers attached to the upper lashing rings.
To quickly section off the interior, run four cords and a sheet or tarp across the container using all four lashing rings at the top and bottom.
When installing these accessories, remember to consider condensation and air conditioning for temperature control.
Other Interior Attachments
The metal corrugations inside a shipping container make it possible to attach interior features without drilling or welding.
This easy adaptability allows for quick reconfiguration of the interior space. Items like shelves, hooks, and brackets can be securely fastened to the ridges.
Power outlets and ventilation systems can also be installed using this same method, resulting in a more durable container structure.
When planning interior attachments, it's essential to consider factors like humidity control and air circulation.
Doing so will ensure a suitable environment for stored goods while also optimizing the container's functionality.
Conclusion
Adding shipping container accessory attachments is a smart and efficient way to get the most out of your container.
Exterior corner fittings can be used to secure external items like solar panels or ventilation systems.
Inside, lashing rings provide added security for heavier items in transit.
Plus, interior attachments such as shelves and hooks can provide organization solutions for cargo.
With these attachment options, adapting your shipping container to any unique needs or requirements becomes simpler and more precise.