Greetings from Sacramento! 🙂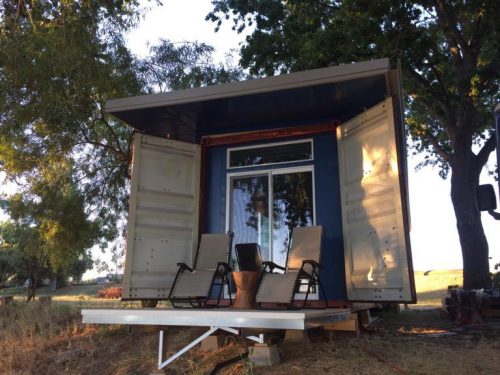 Today, we here at Container Home Hub are happy to be covering this 320 square foot shipping container home located in Sacramento, California. If you are looking for inspiration for your own shipping container getaway, look no further. Not only is this home right on the Sacramento River, it is built to last with a 40 year warranty on both its roof and the container itself. Not to mention, it is incredibly stylish and modern.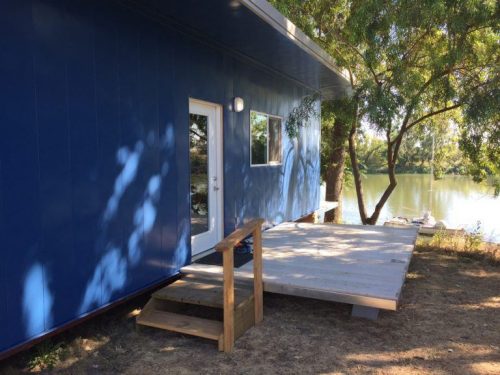 The deep blue paint of the exterior is immediately striking due to the white trim that lines the windows and roofline. We love the way these classic colors contrast and compliment each other. Nothing says wholesome like this perfect farmhouse-style combination.
We also love the compact front porch that is perfect for gazing out at the river on a lazy summer afternoon. On top of this porch, there is another one at the back of the house that looks out onto the river itself. There is almost nothing that the designers of this container home haven't thought of when it comes to enjoying your time there as much as you possibly can.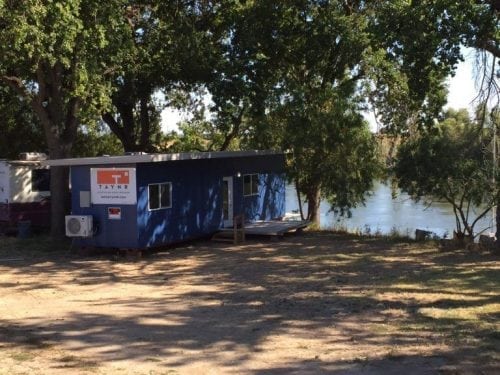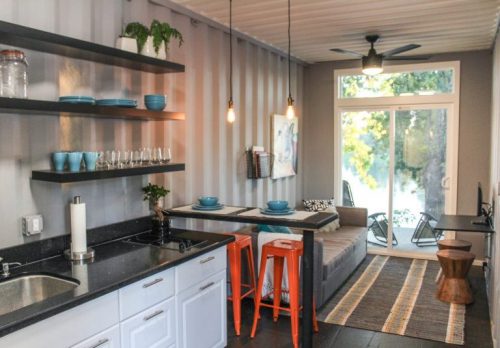 As attractive as this shipping container home is on the outside, it is even more interesting and eye-catching on the inside. At first glance, it seems much bigger than it actually is due to the lovingly designed floor plan. This attention to detail is incredibly important when designing the interior of a shipping container home.
The bar-style table helps keep the flow of the living area from becoming cluttered or blocked off. This allows people to get around it and into the sitting room without having to scoot around anyone who happens to be using the table. This is a fantastic design detail and something that should be taken into consideration by anyone putting together a floor plan for their container home.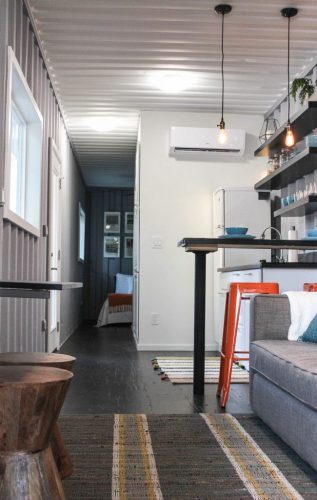 We love the raw, almost industrial feel of the corrugated white metal that originally came with the shipping container. Combined with the sparse light fixtures, it gives off a modern feel that would be perfectly at home in any brand new condominium or artist's loft. On top of that, its wavy texture is perfect for giving the illusion of wider space whereas flat walls might feel slightly cramped in the narrow area.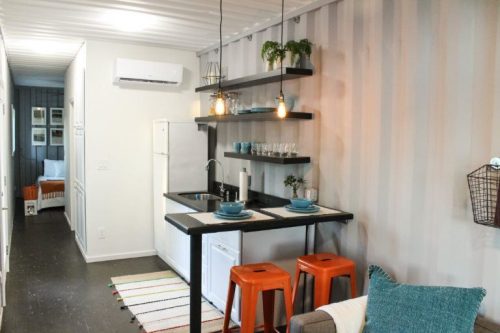 One of the best things about this shipping container home is the modular style of the shelving in the kitchen. This kind of shelving unit is a great way to save space in the kitchen by building upwards instead of outwards. When building a shipping container home, it is always best to think of ways to utilize as much space as you possibly can. We think the designers of this container home have done a fantastic job of this.
The bathroom is just as intricately designed as the rest of the container home is. With wood printed tile in the shower that perfectly complements the white corrugated metal siding, there is a seamless transition that adds to the coordinated feel of the whole home. On top of this, the mosaic style of the shower floor is an artsy touch that we love.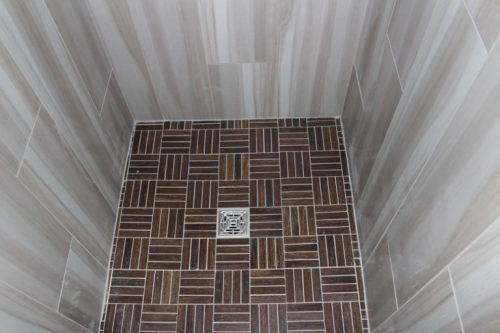 The adorable bedroom located at the back of this container home may be small, but it is a perfect addition to the rest of the house. With a large window that lets in plenty of natural light, it doesn't feel boxed in at all, and is wide enough for a large bed as well as any other furniture you may have in mind.
We love the beautiful simplicity of this shipping container home. With so much to offer in such a little package, it is clean and tasteful from corner to corner. That kind of attention to detail and foresight is exactly what makes a shipping container home work well.
So what do you think? Would you buy this house for $44,800? 🙂
Information Source: Smaller Living
Photo Source: Tiny House Listings
» Follow Container Home Hub on Facebook for regular shipping container home updates here «