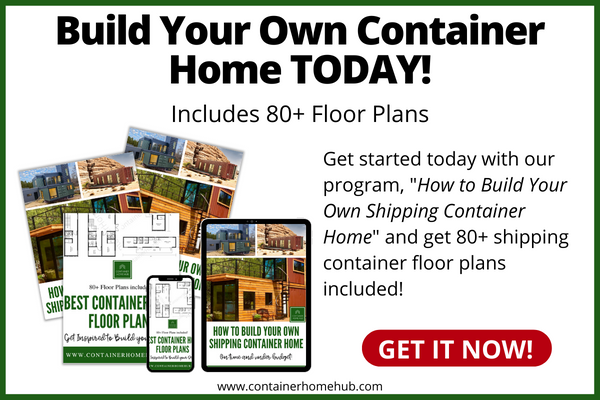 Greetings from Austin! 🙂
This gorgeous, contemporary home is made from repurposed shipping containers! The home was designed by Keith Lasseigne as a weekend getaway for himself and as a retreat for dogs he fosters. The home has an open kitchen and living room area with large window space. There's also a small desk space in the living room and a metallic fireplace. There's even outdoor living space. This shipping container home was also featured on the first season of HGTV's "Container Homes"!
This Austonian vacation home includes so many modern amenities! A stainless steel, gas fireplace, wall-mounted television and a bright, light color palette make this living room feel open and airy. A sliding glass door provides easy access to the home's outdoor spaces, and lets in ample natural light. This open living space even includes a bed for weekend guests. And to fit function into this cozy bedroom nook, pendant lights were used to save precious space on the pint-sized nightstands.
A Nest thermostat system will help keep energy costs down by learning the homeowner's schedule and adjusting the temperature accordingly. The open living space also includes a high counter that can double as a desk.
This kitchen has a small footprint, but it makes use of every inch of wall space with floor-to-ceiling cabinetry. The kitchen leads to a pint-sized laundry room. The stainless steel sink overlooks the patio and outdoor tub. An outdoor shower and tub allow the homeowner and guests to take advantage of the Texas weather in warmer months.
A second shipping container for guests includes a master bedroom with a large closet and contemporary wood details. Tucking the bed into a nook and using wall-mounted nightstands and pendant lighting adds function without sacrificing square footage.
Slate gray tile and wood details add style to this luxurious bath in the property's guest house. A glass walk-in shower takes up less visual space in this room, making it feel more spacious. In addition to a vessel sink and walk-in shower, this bathroom also features a washer and dryer. And a second bed fits perfectly in a nook of the property's guest house.
A raised, covered patio allows the homeowner and guests to enjoy the surrounding forest (and the shade.) This home is all about indoor-outdoor living. The large deck provides ample room for dinner parties and lounging in the sun.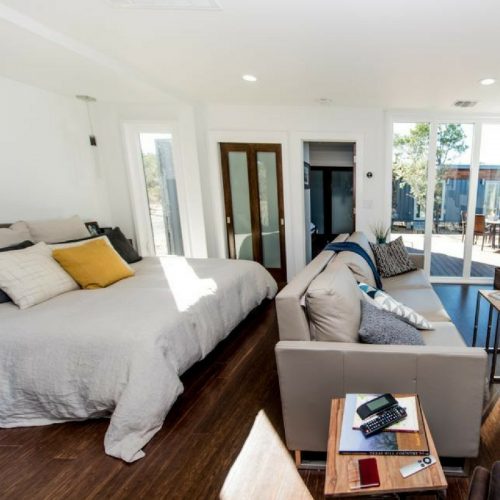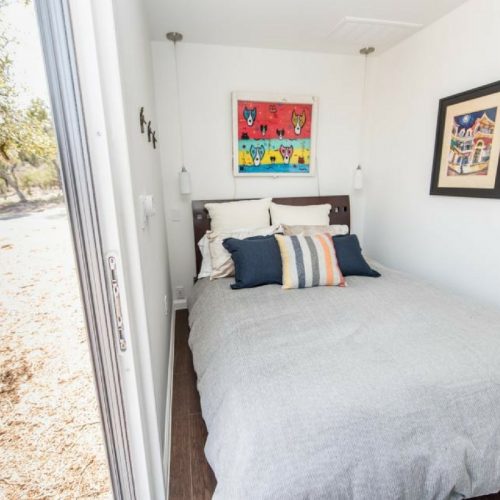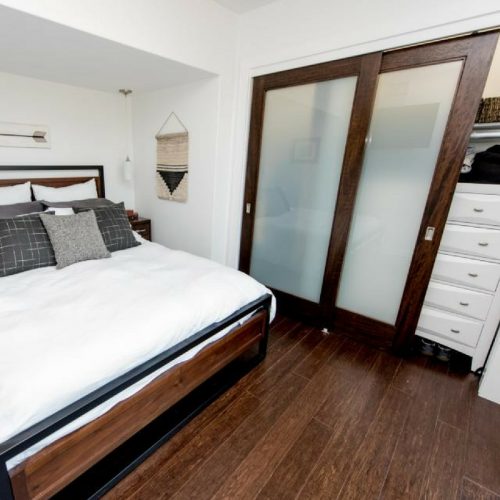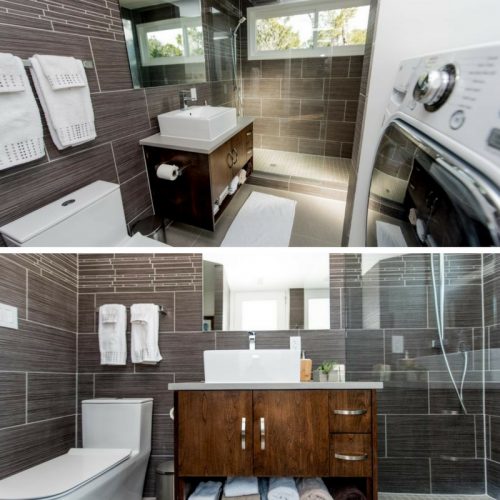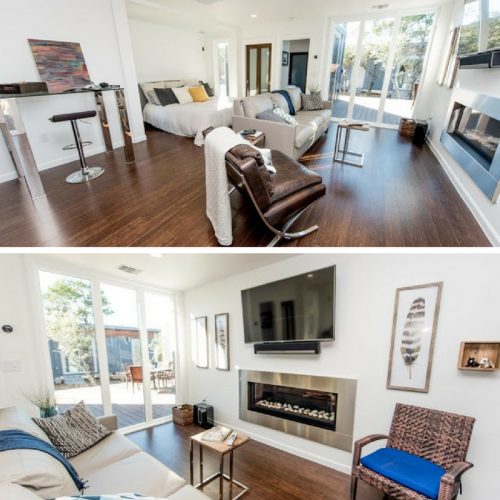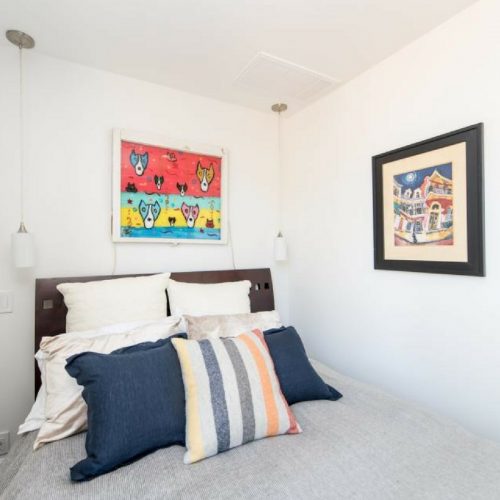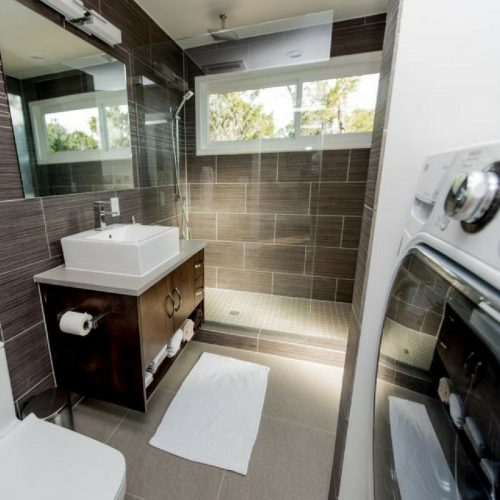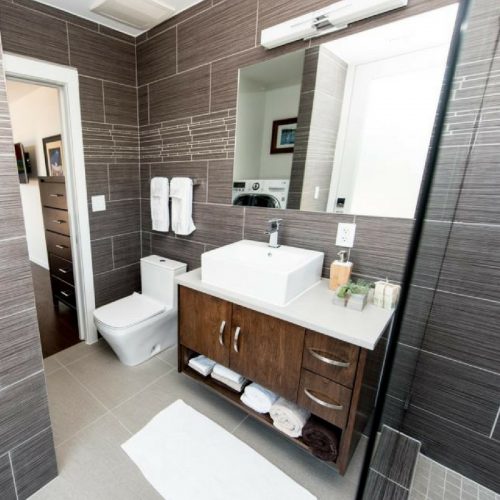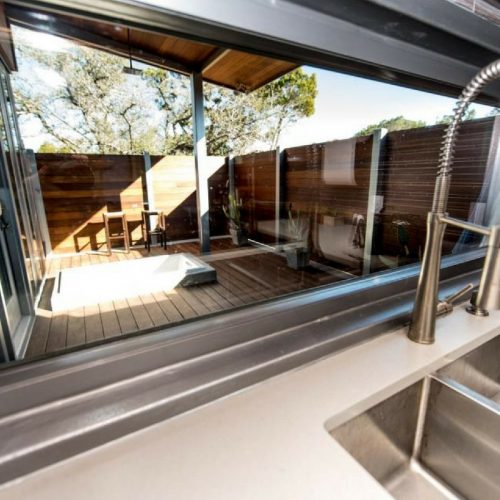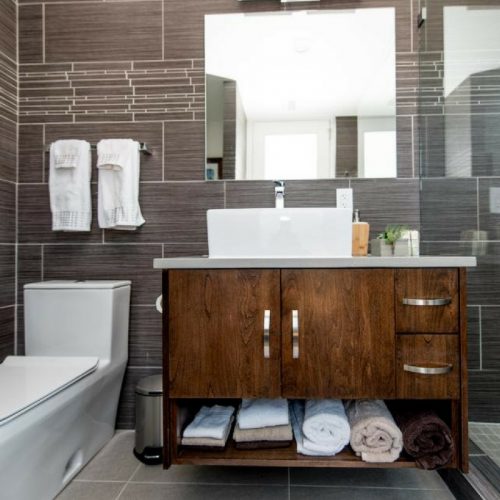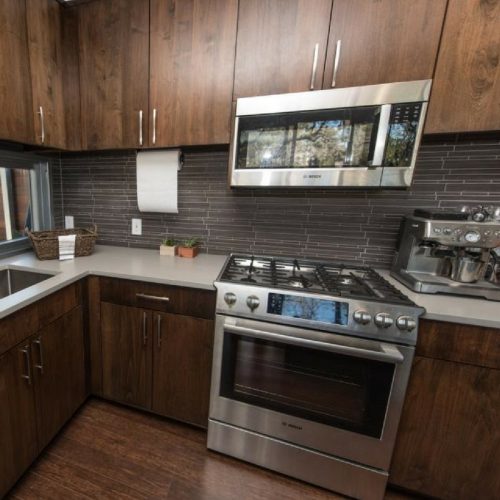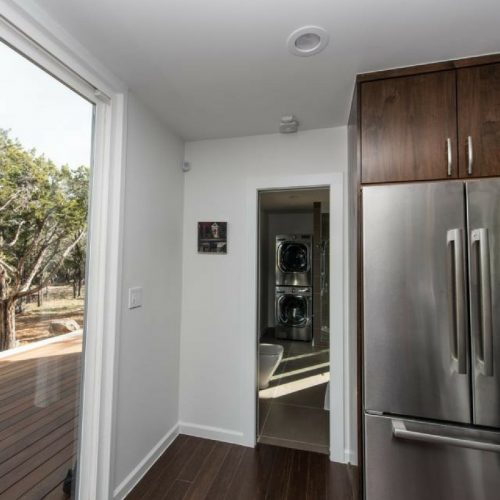 If you noticed, I like to share with you as many details about the shipping container homes as I can possibly find. Though this home is stunning and shown on HGTV, I could not find how many shipping containers it took to build this home. I would guess from all the photos, 4 for the main house and 1 for the guest house. In any case, I am loving all the stunning shipping container homes from Texas I am finding! 🙂 What do you think? Would you live in this one or you like the one from yesterday more?
Information Source: HGTV & The Little Living Blog
Photo Source: The Little Living Blog
» Follow Container Home Hub on Facebook for regular shipping container home updates here «