If you're looking for a unique way to store your belongings, shipping container storage ideas might be worth considering. While it might not be the first thing that comes to mind, using a shipping container can provide a number of benefits.
8 Ways To Use A Shipping Container for Storage
Shipping containers as storage can help keep your belongings safe from the elements. Shipping containers are incredibly durable and weather-resistant, so you don't have to worry about your things getting damaged by the sun or rain. If you happen to live in an area prone to flooding or other natural disasters, storing your belongings in a shipping container can give you some peace of mind knowing that they'll be safe no matter what happens.
Since shipping containers are relatively inexpensive and easy to find, this makes them definitely worth considering when looking for a storage solution for your belongings.
Create more storage space in your home
Shipping containers are durable, affordable, and customizable! They can provide a storage solution for even the smallest spaces, allowing you to declutter your living environment and make better use of available space. With some creative ideas and planning, you can transform these large boxes into a secure, personalized storage system.
Store seasonal items
Shipping containers offer a great way to store seasonal items, such as holiday decorations. Not only are shipping containers affordable and spacious, but they also provide a reliable and secure storage solution. Their durable steel construction makes them resistant to rust and weather damage, ensuring your decorations stay safely tucked away until the next season.
Store non-perishable food items
With the rise of sustainable and eco-friendly living, shipping containers have become a popular storage solution for many households. One creative way to use them is for storing non-perishable food items like canned goods. These items can be easily organized and categorized in a shipping container.
Organize and Store Yard and Outdoor Equipment
Storing your outdoor equipment can be a piece of cake when you use a shipping container. A simple alternative to traditional garage storage is a shipping container that provides a secure and weather-resistant place to store anything from lawnmowers to bicycles.
Not only do these containers provide an effective means of protecting items from the elements, but they also require minimal effort in upkeep and installation. With the help of a shipping container, your outdoor equipment will enjoy extra protection for years to come without breaking the bank.
Store Animal Feed
Shipping containers can be used on farmland to help keep animal feed dry and safe but also accessible. Putting a shipping container out in the field could really help save time when needing to get animal feed out in the pasture.
Pool Shed
If you have recently installed a pool look into using a shipping container home to store all your pool equipment and turn it into storage for your pool floats, towels, and outdoor furniture cushions.
Create a Workshop or Garage Space
Shipping containers offer a unique storage idea for those who have limited space. They can also create a workshop or garage atmosphere in no time. Not only do they come in various sizes, but they are easy to move and transport if needed. You can customize the containers with shelving or storage racks to meet your storage needs and even add electrical hookups if you desire. Best of all, you can be sure that your items will stay secure and protected in a durable container!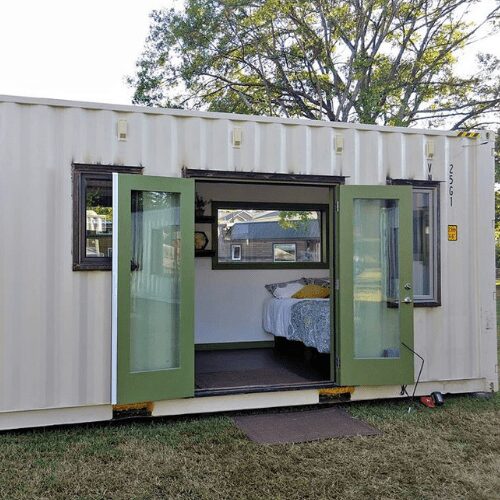 Guest Room
As your family goes, as your kids get older having extra space when everyone visits is important. A shipping container in your backyard can provide you with the extra space you have been looking for. You can customize the space as you see best fits your needs. The possibilities are endless when it comes to using a shipping container for a guest room.
How do you organize a shipping container for storage?
Organizing a shipping container is relatively easy. To get started, you should first measure the size of the items you need to store in it and determine which type of container would best meet your needs.
The next step is to add shelving or racks inside the container to organize items neatly. You may also want to add electrical hookups if you plan on using power tools in the container.
Finally, make sure to label all of your containers for easy reference when retrieving stored items. This will help keep all your items organized and easily accessible, regardless of the season!
What should you not store in a shipping container?
It is important to note that some items should not be stored in a shipping container. These include food, animals, and any products or materials that extreme temperatures could damage. In addition, you should also avoid storing hazardous materials or flammable liquids, as these may create safety hazards.
Conclusion
Shipping containers offer a great way to create more space in your home for storage, workshops, and other uses. Although it may seem like an overwhelming task to undertake, utilizing shipping containers for storage is relatively simple and can give you the extra space needed to store seasonal items and non-perishable food items.